Introduction to E-Supply Chain Management
Let us now begin to understand the concept and functionality of E-Supply Chain Management.
The process of putting the demand and supply planning and execution information into a collaborative mode through the internet helps the employees to communicate with customers, suppliers and other business functions swiftly and also helps to execute ordering, promising and processing and other manufacturing activities more quickly at lesser cost.
Now for an E-Supply Chain Management approach to function efficiently with inline key process, the performance objectives need to guide overall strategy and the design of the system in the following manner –
By reducing order-to-delivery cycle times
By boosting on-time performance to at least 99%
By getting inventories down to the bare minimum
By ensuring world-class product and service quality
By lowering operating costs without reducing quality and on-time performance
Following figure illustrates the components of a successful E-Supply Chain Management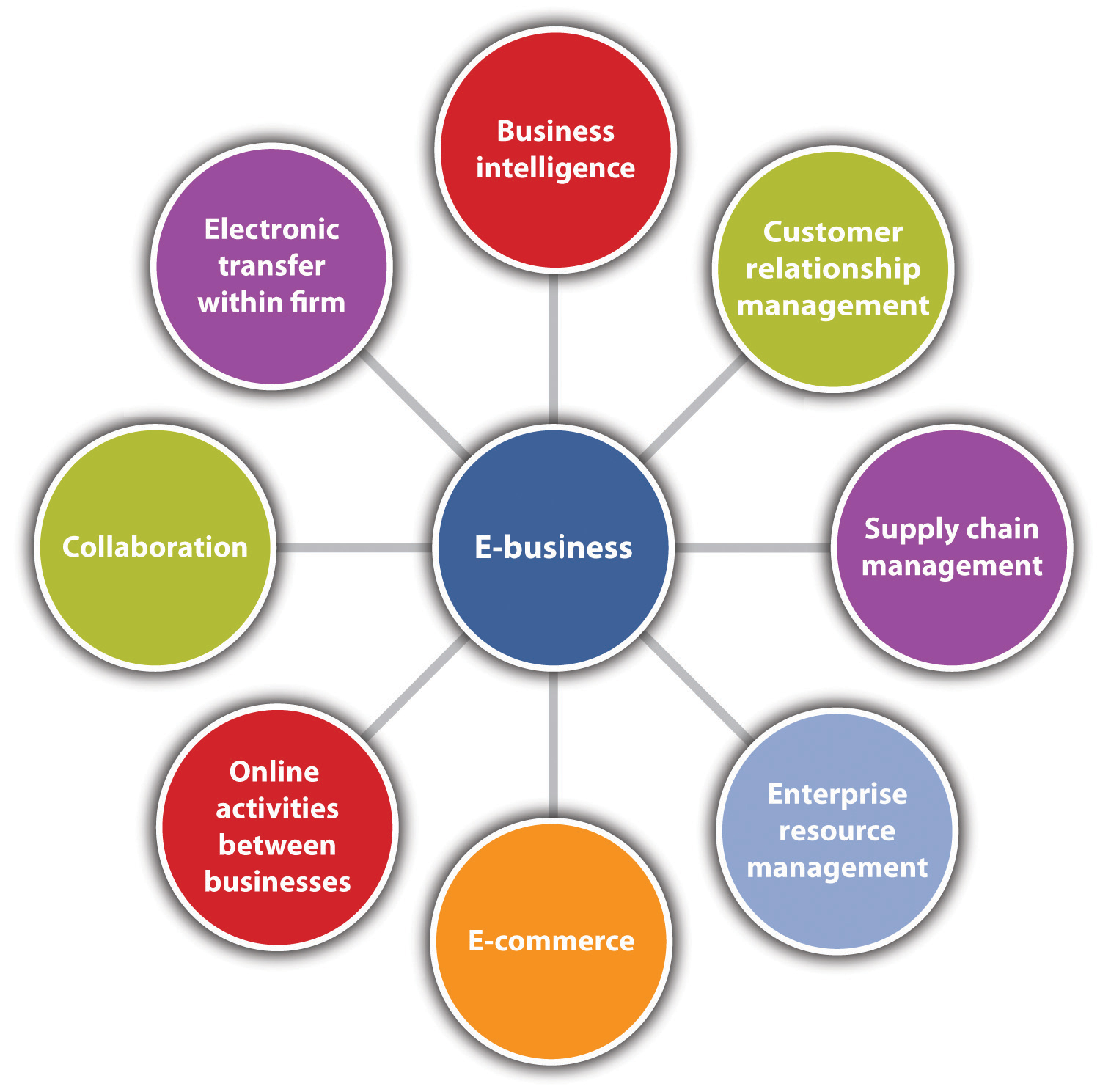 Role of E-business in a Supply Chain

We use the term e-Business to describe businesses run on the internet, or businesses that use internet technologies to improve the productivity or profitability of a business. In general, we can describe it as any form of electronic business that uses a computer. This usage is somewhat archaic, however, and in most contexts e-business refers exclusively to internet businesses. IBM was one of the first to use this term when it launched a campaign built around the term.
E-Business is one of the easiest ways to reach out to the people involved in the supply chain. All you have to do is to have a website or register with a known search engine to hold its website in order for the site to be known. A business can put all information regarding their products, services, contact number on the site. Once done, the website is available for the customers and other participants of the supply chain to be viewed. The customers or suppliers can then view all the types of products and services available and accordingly make an offer.
E-commerce vs E-business
Many a times we use the term e-commerce and e-business interchangeably, but clearly they are distinct concepts. In e-commerce, information and communications technology (ICT) is used in inter-business or inter-organizational transactions (transactions between and among hrms/organizations) and in business-to-consumer transactions (transactions between firms/ organizations and individuals).
Primary processes in E-business
Production processes – Production processes includes procurement, ordering and replenishment of stocks, processing of payments, electronic links with suppliers and production control processes amongst others.
Customer-focused processes: Customer-focused processes includes promotional and marketing efforts, selling over the internet, processing of customers' purchase orders and payments and customer support amongst others.
Internal management processes – Internal management processes include employee services, training, internal information-sharing, video-conferencing, and recruiting. Electronic applications enhance information flow between production and sales forces to improve sales force productivity. Workgroup communication and electronic publishing of internal business information are likewise made more efficient.
We shall now discuss how e- business can provide a virtual supply chain over the internet. It performs the following functions –
Provides information on the products to all the participants of the supply chain.
Allows placing orders with suppliers.
Allows customers to place orders.
Filling and delivering the orders to customers.
Receiving payments from customers
We know that all these transactions are traditional, but with the use of e-business, these transactions are now performed more efficiently and quickly, thereby providing high levels of customer response. E- Business allows transactions round the clock which no other mode of payment can provide. In this chapter we are going to learn about the two most important models of e- Business i.e. B2C e- business and B2B e- business.
Business to Consumer e-business (B2C)
E-Business of this type takes place between a company and a consumer.
But in case, the consumer comes directly in contact with the company and can view the company brochure or prospectus online along with their product and services and thus, make an order. This type of business reduces the trouble of the consumers going to the retail outlets and buying their goods.
Business to Business (B2B)
E-Business of this type takes place between a company and a company.
Many a time, one company is dependent on another company for raw material, spare parts or other products which they require to manufacture their goods.
The supply chain managers must note that the value provided by e-business is huge. However, its correct implementation is very necessary or else it may even turn the other way round for the company, e-business implementation is not an easy process and the failure to exercise proper implementation has even resulted in large companies closing down.
E-Business Framework
E-business framework consists of the role it plays in all the functions of a supply chain like marketing, sales, research and development, logistics etc. The values that e-business provides to a supply chain by providing clear visibility of every stage in a supply chain –
General values
Exchange and share data across the world
Send messages faster and cheaper
Approve and proof work quickly
Introduce collaborative working
Update employees instantly new policies or procedures
Hold Web meetings or data conferencing
Take advantage of time difference
Send out e-mail automatically
Use the internet to improve business administration
Getting trained on the Web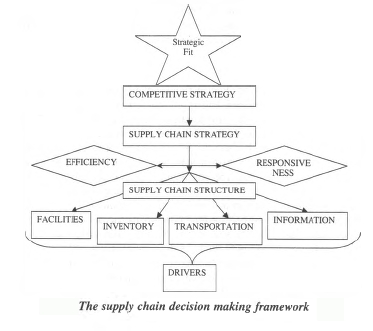 Research & Development Value
Expedite market and product research – Almost all the information is available on the web and most of it is free. Finding information to assist in product development is usually much quicker using e-commerce methods, thereby significantly reducing product development time.
Trade intellectual assets on the web – Also patents and other intellectual assets can be bought, sold, and licensed in e- markets, making the whole process of acquiring licensing rights, and marketing them much easier.
Marketing Value
Look bigger
Use the internet to deliver products and services
Provide an extensive business profile and online information centre
Track response on the internet
Send e-newsletters to customers and save time, postage and packaging
Clearly position your business
Sales value
Introduce another channel to market
Automate interactive business processes
Lower the cost of order processing
No physical space limitations
Buy and sell quicker
Boost sales with exports
Close sales faster
Use a website for direct and indirect selling
Procurement value
Reduce procurement costs and improve efficiency
E-Procurement systems helps to achieve the following business benefits –
73 % reduction in transaction costs
70% to 80% reduction in purchase order processing cycles
5 % to 10% reduction in prices paid
Logistics value
Optimize inventory levels
Provide information by self-service
Efficiently improving supply chain efficiency
E-commerce together with internet methods enable real-time communications, and dynamic interchange of data, up and down the supply chain. All the information can be shared through emails, extranets, or by using middleware such as Microsoft Biz Talk, to enable legacy systems to transform an EDI document into an XML-readable format, so that every e- commerce system can understand and interact with it, and vice versa.
Now for a supply chain manager to decide whether or not his company is a good candidate for making use of the values provided by e- business, he must use the following list on the score card and rate the impact his company would have due to them –
CRITERIA
RATING

Direct Sales
Round the clock Access
Large product portfolio
Quick market entry
Flexible pricing, promotions
Price discrimination
Quick fund transfers
Lower stockouts
Automated process
Impact on Inventory
Impact on Facilities
Impact on Transportation
Gathering Information
B2B E-Business and B2C E-Business
B2B e-business
B2B e-business is defined as e-business between companies. This is the type of e- business that deals with relationships between businesses. nearly 80% of e-businesses are of this type, and B2B e-business will continue to grow faster than the B2C segment. The B2B market has two primary components –
E-infrastructure
E-markets
E- infrastructure is the architecture of B2B, primarily consisting of –
Logistics – transportation, warehousing and distribution (e.g- Procter and Gamble)
Application service providers – deployment, hosting and management of packaged software from a central facility (e.g., Oracle and Linkshare)
Outsourcing of functions in the process of e-business, such as Web-hosting, security and customer care solutions (e.g., outsourcing providers such as eShare, NetSales, iXL Enterprises and Universal Access)
Auction solutions software for the operation and maintenance of real-time auctions in the Internet (e.g., Moai Technologies and OpenSite Technologies)
Content management software for the facilitation of Web site content management and delivery (e.g., Interwoven and ProcureNet)
Web-based business enablers (e.g., Commerce One, a browser-based, XML enabled purchasing automation software)
E-markets are simply defined as websites where buyers and sellers interact with each other and conduct transactions.
Some of the common B2B examples and best practice models are IBM, Hewlett Packard (HP), Cisco and Dell, etc. Cisco, for instance, receives over 90% of its product orders over the Internet.
Benefits of B2B E-business in developing markets
There are four important benefits of B2B e-business in developing markets, like India, especially in the field of:
reduced transaction costs
Disintermediation
Transparency in pricing
Economies of scale and network effects,
B2C E- Business
Business-to-consumer (B2C) e-business (or business between companies and consumers) involves customers gathering information, purchasing physical goods (i.e., tangibles such as books or consumer products) or information goods (or goods of electronic material or digitised content, such as software, or e-books); also for information goods, receiving products over an electronic network. It is the second largest and the earliest form of e- business. Its origins can be traced to online retailing (or e-tailing).
Practicing E-Business
A supply chain manager, before setting up an e-business in practice, should consider –
Integration of the internet with the existing physical network: You will agree a company cannot do business with the internet alone. It has to also take into consideration the other channels of distribution. E-business should be well integrated with other channels of distribution in order to gain maximum advantage because no physical network can take the burden of running a business alone.
Devise shipping pricing strategies that reflect costs: Companies selling products online, must charge shipping costs to the appropriate customers based on their orders. Different orders will have different shipping costs, based on the total volume of the order, the size and the place of destination of the order.
Optimizing e- business logistics: Optimizing e- business logistics, asks the companies to deliver the smallest of packages to their customers in a cost effective way. With smaller packages containing small products, it becomes critical for companies to exploit every possible opportunity to consolidate shipments to lower the costs.
Designing the e- business supply chain to easily handle returns: Since it makes a lot of difference for a customer to buy a product online, and when he is buying the product from a retail outlet.
Keep the customers informed throughout the order fulfillment process: When designing a business online a customer should places an order, it is the duty of the company to inform the customer about the status of his (customer) order.