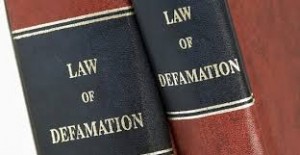 The reputation of a man is an invaluable asset to him and every man has the right to preserve his repution inviolate. By reputation is meant, the opinion held by the world in general. The right of reputation is jus in rem i.e. right that a person holds against the entire world. A man's reputation is his property and a person's right over it is seen as an inherent personal right. It is the wrong of defamation that protects the reputation and protects against the wrong. The law existing on defamation imposes reasonable restriction on the fundamental freedom of speech and expression as given by Article 19(1) (a) of the Constitution of India and saved by clause (2) of Article 19.
A defamatory statement is "a statement calculated to expose a person to hatred, contempt or ridicule or to injure him in his trade, business, profession, calling or office, or to cause him to be shunned or avoided in society". In order to maintain a claim or suit for defamation there must have been injuries suffered by the plaintiff as a result of such an act or statement hurting or degrading his position in society.
English law recognises two forms or types of defamation that is, defamation can be done by a written document called Libel or by the way of speech for utterances i.e. spoken defamation called Slander.
A libel is a false publication or a defamatory statement in a form that is permanent that is of a nature which tends to injure the reputation of another person on false basis, without lawful justification or excuse. The essentials of a libel are that the statement must be false, in writing , defamatory and published.
A slander is a defamatory statement made by the way of speech that tends to injure the reputation of another without lawful justification or rational excuse. For a verbal statement to be considered as defamatory, the essentials that need to be fulfilled are that the words compiled must be false, defamatory , published and that special damage arose as a direct result of it.