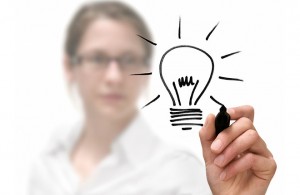 "First mover isn't what's important—it's the last mover. Microsoft was the last operating system, and Google was the last search engine."
Samuel Moore Walton, the founder of Wal-mart himself acknowledged that his one stop shopping centre format was based on Meijer's innovative idea. Meijer was a giant supermarket chain at that time. However this did not deter Walton from opening a store in front of its biggest competitor. With improvisation and intelligent marketing he has been able to achieve the zenith of great success.
Competition is a very good head start for any venture because, guess what, all the hard work is already done. You know that there exists a market for your product/ service, and in what ways can the business falter or triumph. All you have to do is innovate to plug in the loop holes. Securing success depends on having the differentiating trait that kills off competition and not eludes it. The target is simply to be different. 'Better' is a subjective concept-there is no instrument to measure how better your idea is when compared with your competitors. For all we know, it is worthless without any execution. To add value to your idea, first you need to act upon it, then analyze the behavior of the consumers and the competitors and then manipulate your plans in your favour. How do you execute matters not what do you execute. A sub-par idea executed brilliantly is more likely to sustain than a great idea executed poorly. Only once you enter the market, you can comprehend the basic need for your product/service which will enable you to adapt to sustain the competition, and only then can you strive to expand your businesses reach.
It is the age of start-ups. From all around new businesses are being encouraged and supported. If you do not have any brand new idea but a different version of an already existing idea, it's perfect. Google was not the first search engine. Facebook was not the first social networking website. Zara was not the first ever brand selling apparels.
Stop thinking and start acting.