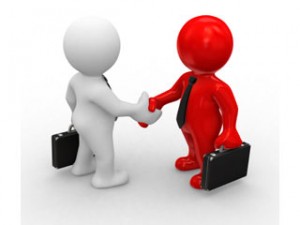 *Tring Tring*
Hello Good morning, how can I help you sir?
We usually call customer care number for taking help and solving our queries. This is an important part of customer relations.
Customer is someone who buys goods. He has the ability to choose between different products and suppliers.
Customer relations are very important. Without assessing customer relations, it's difficult for a company to know how it is in terms of its client base. It is hard to figure out the growth of the firm.
If customers are satisfied with you then you can expect them to come back and make future purchases. It's very difficult to attract customers. People are using online marketing to keep in touch with their customers. Successful business provide good services by handling customer complaints.
When a customer calls you or talk to you about his problem then it is the first duty of the firm to listen him carefully. Try to understand his problem and solve it as soon as possible. Give them assurance that you will consider his request. Always remember
"The customer is why we are here. If we take good care of them, they will give us good reason to come back".
I'm sorry is not the answer. If they are not getting proper attention and services they want, they will surely move somewhere else. Customer no longer care about what the department you are in,they simply want their problems solved. It helps in making strong customer relation.
About every firm has started customer care services, which work day and night just to solve and listen the problems of their customers. It is way to communicate and interact with customers. Listening is as important as telling. It matters that how often you speak with your customers. People should give priority to their customers. Sometimes , they rate their satisfaction on a scale of 1-10. If customer gives 8 then it means you are working good and expect repeat purchase but if you get 5 then you have to take special care of that customer.
You should be flexible, atentive and quick towards customer's problem.
Handling customer is a kind of talent. You should have some sort of relationship with your customers. Because they are responsible for your progress. Taking care of them is your responsibility. Sometimes it's difficult to get them or make them understand. Have patience and try to analyse their point of view. As "Customer does not care how much you know until they know how much you care."