CRPF Protests in the Kashmir Valley Prepare Deathbeds For The Masses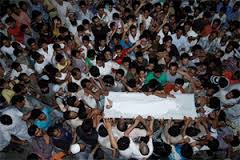 During strike circumstances in Kashmir Valley, a teenager was shot to death by the security forces. The strike has been called against the killing of two young boys in Tral, in the armed forces operation. It has been called by the Hurriyat Conference in the valley.
Prompted by the incidence, the officials have registered a murder case. The matter is being probed by the magistrate. In connection with the case, two policemen have been arrested.
Due to the incidence, violence has been burgeoning in the Valley owing to the protestors. The police, therefore, opened fire to stop these protests. At Narbal in Budgam, three people were wounded in the tension of which one died in hospital. There is a row in the valley as the eye-witnesses spoke of the death of the sixteen year old boy in the ruckus created by policemen.
However, the District Magistrate has asked the Deputy Commissioner to probe the incidence and submit the report in two weeks.
The action of the State Police is being questioned. The Police is trying to find out the circumstances under which the on duty personnel had to do away with the Standard Operating Procedure.
According to the kith and kin of  the sixteen year old boy, before he was shot to death, he was detained and probed.
Other eye-witnesses also reported rash behavior of the police personnel. Reportedly, the boy was taken aside and shot dead.
The death was protested by the masses by stone pelting and by setting up fire to a police picket and tourism hut.