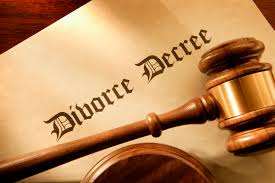 The concept of marriage is sacrament. It is the State of being united to a person of the opposite sex, as husband or wife in a consensual and contractual relationship recognized by law. It forms the basis of the society. Because marriage is sacred, it is irrevocable. Thus under Hindu law administered by courts in India, divorce was not recognized as a means to put an end to marriage. The parties to a marriage cannot just end the marriage at their will; they were bound to it till the death of either. In earlier times, wives were bound to the marriage even after the death of the husband, where they were not allowed to re-marry and sati was practiced.
Marriage, in the Indian society is not considered as a pure and simple contract like other contracts. This bond is considered religious, moral and social of mutual duties and obligations. The marital relationship has three basic components; the sexual, familistic and companionship component. Either of the three components or needs if not fulfilled generate conflict and hostility between the spouses. Thus surfaces the concept of divorce i.e. the dissolution of marriage. Divorce is the legal dissolution of marriage in a way other than through the death of one of the spouses, so that either of the spouses is free to remarry someone else after a certain period of time. As far as possible, divorce is the last choice resorted. It is not favored or encouraged, the couple seeking divorce is given ample amount of opportunity to reconcile, resolve their conflicts and cohabit again.
Under the Hindu Marriage Act, 1955 S. 13 illustrates the various grounds for divorce. Adultery, cruelty, conversion or apostasy, desertion, bigamy, incurable unsoundness of mind, virulent and incurable form of leprosy, disease in communicable form, renouncing the world, has not been heard of as being alive for seven or more years and non-resumption of cohabitation for one year or more after a decree of judicial separations are a few grounds for divorce which over a period of time have been recognized by Hindu law. There are certain grounds for divorce available exclusively to the wife, such as husband married more than one before the commencement of this Act, the husband has been guilty of rape, sodomy or bestiality, after the solemnization of marriage to the petitioner or the wife has repudiated the marriage because it was against her wishes, and when she was a minor. In the various grounds mentioned in S.13 there subsists an aggrieved party who endures or has to undergo arduous circumstances due to the act of his or her spouse.
Conversion as a Ground for Divorce
Conversion of one of the spouses to any other religion affords a ground to the other spouse certain matrimonial reliefs. In this context, conversion means that the person has voluntarily relinquished his or her religion and adopted another religion after going through some formal ceremony. If a Hindu embraces a totally different religion, such as Christianity or Islam, he or she may be stated to be a convert.
The party who ceases to be a Hindu by conversion cannot file a petition for divorce under this section. This ground can be claimed only by the other party[1]
In Durga Prasad Rao v Sudarshan Swammi[2], it was observed that in every case of conversion or reconversion to Hinduism, formal renunciation of religion or performance of expiatory ceremony is not essential. Therefore whether the conversion or reconversion took place is a question of fact.
The Hindu marriage act has proposed two conditions when conversion as a ground for divorce can be invoked, these are
That the respondent has ceased to follow the faith of Hinduism, that is he is no longer a Hindu
That the respondent has converted to another religion that is a non-Hindu faith.
This ground for divorce has been included in the Hindu Marriage Act only for the purpose of circumventing the provision of S.494 of Indian Penal Code, 1860.[3] Conversion to Islam by a Hindu spouse per se does not lead to divorce, but it only give a right to the other spouse to file a petition for divorce under S.13(1)(ii)
Where a Hindu wife converted to Muslim faith and then married a Mohammedan, it was held that her earlier marriage with a Hindu husband was not dissolved by her conversion. She was charged and convicted of bigamy under S.494 of Indian Penal Code, 1860.[4]
In a case where a Hindu wife was fraudulently taken away of the accused a Mohammedan who married her according to Muslim law after converting her to Islam. It was held that the conversion of the Hindu wife to Mohammedan faith did not ipso facto, dissolve the marriage and she could not during the life time of her former husband enter into a valid contract of marriage. Accordingly, the accused was convicted for adultery under Section 497 of Indian Penal Code, 1860.[5]
Consequences of Conversion
The spouse of the one, who has converted, does not automatically convert to Islam. It poses as a difficulty when, at the time of marriage both parties are governed by two separate personal laws. The judicial announcements indicate that it would be neither just nor right to hold that a marriage dissolves automatically by conversion of one spouse to another religion. In Nandi alias Zainab v The Crown[6], the accused Nandi, the Hindu wife changed her religion to Islam and thereafter married a Mahomedan. It was held that mere conversion of her to Islam did not dissolve the marriage with the petitioner automatically and consequently, she was charged with bigamy under Section 494 I.P.C
CONCLUSION
In the numerous ground of divorce stated in S.13, arduous circumstances are created by the respondent which are borne by the petitioner, which means that the consequences of the acts of the other party aggrieve the petitioner. Therefore, since there exists some form of hurt, it is accepted as a a ground for divorce.
On the contrary, mere conversion does not hurt either of the parties to a marriage, especially the petitioner. When the conversion to another faith is genuine and not due to any ulterior or unlawful motives, conversion need not be a ground for divorce[7] because change in religion does not affect the continuance of conjugal love and therefore it should not be permissible for a party to the marriage to get a divorce by changing his or her religion
But when conversion is and it has been noticed often, only for the purpose of marrying and then again reconverting to prior faith, it becomes a necessary ground for divorce[8]. This conversion not only commits an offence, but it also invalidates S.494 of IPC i.e. bigamy.
This offence of bigamy defeats the nature and very purpose of Hindu marriage, which is comfort consortium[9]
[1] Rasna v Arun 1997 (2) HLR 596 (MP)
[2] ILR 1940 Mad 653
[3] S. 494 of IPC prohibits marrying again during the lifetime of husband or wife. Where husband or wife is living and a marriage is solemnized, such marriage is void by reason of its taking place during the lifetime of husband or wife. It shall be punished with imprisonment and shall be liable for fine.
[4] Re: Ram Kumari, 1891 Calcutta 246
[5] Gul Mohammed V. Emperor AIR 1947 Nagpur 121
[6] (1919) ILR 1 Lah 440
[7] Reshma Bibi v Khuda Baksh AIR 1938 Lah 483; Abdul Razak v Aga Md (1982) 21 IA 56
[8] Mohammad v Mst Mariam AIR 1936 Lah 666
[9] Best v Samuel Fox & Co Ltd [1952] AC 716; ("Companionship, love, affection, comfort, mutual services, sexual intercourse — all belong to the married state. Taken together, they make up the consortium; but I cannot think that the loss of one element, however grievous it may be, as it undoubtedly is in the present case, can be regarded as the loss of the consortium within the meaning of the decided cases. Still less could any impairment of one of the elements be so regarded. Consortium, I think, is one and indivisible. The law gives a remedy for its loss, but for nothing short of that.")