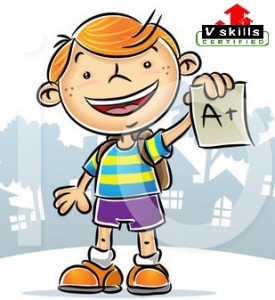 Congratulations !! to all candidates who cleared the Vskills Assessment exam held on 6th-Sep and 7th-Sep 2014.
The result for Vskills Certification examination held across India on 16th-Aug and 17th-Aug has been declared and certified candidate have been updated in Vskills Alumni list (http://www.vskills.in/certification/Vskills-Alumni).
Details on steps to tagging and highlighting of CVs of certified candidate will be sent by e-mail to all certified candidates.
Details of certified candidates are also listed below –
| Name | Certification | Exam Date | City |
| --- | --- | --- | --- |
| Pooja Aithal | VS-1130 Certified Corporate Finance Analyst | 06-Sep-2014 | Bangalore |
| Gaurav Sharma | VS-1075 Certified Business Intelligence Professional | 06-Sep-2014 | Delhi |
| Puneet Sharma | VS-1092 Certified AML-KYC Compliance Officer | 06-Sep-2014 | Delhi |
| Sunny Nagpal | VS-1096 Certified Social Media Marketing Professional | 06-Sep-2014 | Delhi |
| Subash Talatam | VS-1103 Certified Six Sigma Green Belt Professional | 06-Sep-2014 | Hyderabad |
| Apsara Pandian | VS-1002 Certified Human Resources Manager | 06-Sep-2014 | Kochi |
| Ankit Bansal | VS-1016 Certified Treasury Market Professional | 06-Sep-2014 | Kolkata |
| Heramb Kumar Gautam | VS-1005 Certified Merger and Acquisition Analyst | 06-Sep-2014 | Mumbai |
| Megh Puthia | VS-1005 Certified Merger and Acquisition Analyst | 06-Sep-2014 | Mumbai |
| Tejas Chaudhari | VS-1096 Certified Social Media Marketing Professional | 06-Sep-2014 | Mumbai |
| Ritesh Shah | VS-1170 Certified Digital Marketing Master | 06-Sep-2014 | Mumbai |
| Anantha Kishore Sangubhatla | VS-1002 Certified Human Resources Manager | 06-Sep-2014 | Secunderabad |
| Harini N | VS-1096 Certified Social Media Marketing Professional | 06-Sep-2014 | Secunderabad |
| Mehul Kumar Acharya | VS-1127 Certified GAAP Accounting Standards Professional | 06-Sep-2014 | Surat |
| Bg Padmanabha Sharma | VS-1002 Certified Human Resources Manager | 07-Sep-2014 | Bangalore |
| Sharath VB | VS-1025 Certified ASP.NET Programmer | 07-Sep-2014 | Bangalore |
| Animesh Sarkar | VS-1077 Certified E-Commerce Professional | 07-Sep-2014 | Bangalore |
| Ravi Shankar Kaveti | VS-1083 Certified Selenium Professional | 07-Sep-2014 | Bangalore |
| Ananth Balasubramanian | VS-1083 Certified Selenium Professional | 07-Sep-2014 | Bangalore |
| Kanak Shah | VS-1096 Certified Social Media Marketing Professional | 07-Sep-2014 | Bangalore |
| Ritika Gulati | VS-1101 Certified Fitness Instructor | 07-Sep-2014 | Chandigarh |
| Gaurav Sharma | VS-1077 Certified E-Commerce Professional | 07-Sep-2014 | Delhi |
| Manish Mishra | VS-1092 Certified AML-KYC Compliance Officer | 07-Sep-2014 | Delhi |
| Jagriti Prasad | VS-1096 Certified Social Media Marketing Professional | 07-Sep-2014 | Delhi |
| Dheeraj Sharma | VS-1098 Certified Marketing Manager | 07-Sep-2014 | Delhi |
| Gagandeep Singh | VS-1268 Certified Sales Manager | 07-Sep-2014 | Delhi |
| Dheeraj Grover | VS-1043 Certified Public Relations Officer | 07-Sep-2014 | Gurgaon |
| Laxita Chouhan | VS-1024 Certified Logistics and Supply Chain Professional | 07-Sep-2014 | Hyderabad |
| Sankar Achari | VS-1127 Certified GAAP Accounting Standards Professional | 07-Sep-2014 | Hyderabad |
| Shraddhanand Panchawatikar | VS-1133 Certified Credit Risk Manager | 07-Sep-2014 | Indore |
| Aiswarya Nedungadi | VS-1002 Certified Human Resources Manager | 07-Sep-2014 | Jaipur |
| Dara Samuel Wesly | VS-1002 Certified Human Resources Manager | 07-Sep-2014 | Jaipur |
| Pooja Arora | VS-1003 Certified HR Staffing Manager | 07-Sep-2014 | Mumbai |
| Gowaal Padavi | VS-1153 Certified Business Law Analyst | 07-Sep-2014 | Mumbai |
| Vijaykumar Patiram Yadav | VS-1197 Certified Event Management Professional | 07-Sep-2014 | Mumbai |
-Team Vskills