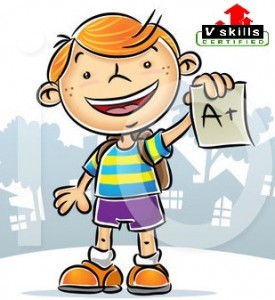 Congratulations !! to all candidates who cleared the Vskills Assessment exam held on 09th Jan and 10th Jan 2016.
The result for Vskills Certification examination held across India on 09th Jan and 10th Jan 2016 has been declared and certified candidate have been updated in Vskills Alumni list (http://www.vskills.in/certification/Vskills-Alumni).
Details on steps to tagging and highlighting of CVs of certified candidate will be sent by e-mail to all certified candidates.
Details of Certified Candidates of Vskills Assessment Exam held on 09th Jan and 10th Jan 2016 are also listed below –
| Name | Certification | Exam Date | City |
| --- | --- | --- | --- |
| Vamsi Krishna Surey | VS-1002 Certified Human Resources Manager | 09-Jan-2016 | Bangalore |
| Shashwat Chauhan | VS-1003 Certified HR Staffing Manager | 09-Jan-2016 | Kanpur |
| Rakesh Kaushik | VS-1004 Certified Compensation and Benefits Manager | 09-Jan-2016 | Delhi |
| Anurag Rokde | VS-1009 Certified Technical Analyst | 09-Jan-2016 | Indore |
| Pallavi T | VS-1011 Certified Performance Appraisal Manager | 09-Jan-2016 | Chennai |
| Poonam Sachdeva | VS-1011 Certified Performance Appraisal Manager | 09-Jan-2016 | Faridabad |
| Swarnika Srivastava | VS-1038 Certified Commercial Banker | 09-Jan-2016 | Lucknow |
| Kriti Singh | VS-1042 Certified Business Communication Specialist | 09-Jan-2016 | Jaipur |
| Sharath Kumar K | VS-1062 Certified MySQL DB Administrator | 09-Jan-2016 | Bangalore |
| Senthil Kumar A | VS-1079 Certified Project Management Professional | 09-Jan-2016 | Bangalore |
| Amrith Sudhakaran | VS-1079 Certified Project Management Professional | 09-Jan-2016 | Cochin |
| Amulya Gupta | VS-1079 Certified Project Management Professional | 09-Jan-2016 | Udaipur |
| Charan Kumar Bonam | VS-1083 Certified Selenium Professional | 09-Jan-2016 | Bangalore |
| Sayantani Chaudhuri | VS-1083 Certified Selenium Professional | 09-Jan-2016 | Bangalore |
| Gokul Krishna | VS-1083 Certified Selenium Professional | 09-Jan-2016 | Bangalore |
| Sweta Ayala | VS-1083 Certified Selenium Professional | 09-Jan-2016 | Bangalore |
| Divya Ravindran | VS-1083 Certified Selenium Professional | 09-Jan-2016 | Chennai |
| Siddhartha Reddy Gangireddy | VS-1083 Certified Selenium Professional | 09-Jan-2016 | Chennai |
| Treesa Ani Tom | VS-1083 Certified Selenium Professional | 09-Jan-2016 | Cochin |
| Sharook Mohamed Abdulla | VS-1083 Certified Selenium Professional | 09-Jan-2016 | Cochin |
| Suraj K | VS-1083 Certified Selenium Professional | 09-Jan-2016 | Cochin |
| Ramachandrapurapu Srichandra | VS-1083 Certified Selenium Professional | 09-Jan-2016 | Hyderabad |
| Pujaa Bhutani | VS-1083 Certified Selenium Professional | 09-Jan-2016 | Jaipur |
| Saakshi Nagpal | VS-1096 Certified Social Media Marketing Professional | 09-Jan-2016 | Chandigarh |
| Anupam Das | VS-1103 Certified Six Sigma Green Belt Professional | 09-Jan-2016 | Bangalore |
| H. Imam Sharfudeen | VS-1103 Certified Six Sigma Green Belt Professional | 09-Jan-2016 | Chennai |
| Shashi Prakash | VS-1104 Certified Six Sigma Black Belt Professional | 09-Jan-2016 | Gurgaon |
| Hansa Mohanty | VS-1105 Certified Electronics Design Associate | 09-Jan-2016 | Bhubaneswar |
| Monica Sawant | VS-1107 Certified World Class Manufacturing (WCM) Practices Manager | 09-Jan-2016 | Thane |
| Akanksha Chauhan | VS-1170 Certified Digital Marketing Master | 09-Jan-2016 | Delhi |
| Naveen Guduri | VS-1170 Certified Digital Marketing Master | 09-Jan-2016 | Mumbai |
| Devendra Saini | VS-1170 Certified Digital Marketing Master | 09-Jan-2016 | Udaipur |
| Debasish Rout | VS-1189 Certified Brand Manager | 09-Jan-2016 | Bhubaneswar |
| Sairam K | VS-1198 Certified Risk Management Professional | 09-Jan-2016 | Chennai |
| Priyanka Datta | VS-1217 Certified Digital Marketing Professional | 09-Jan-2016 | Delhi |
| Abhijit Hota | VS-1224 Certified Smart Cities Professional | 09-Jan-2016 | Bangalore |
| Sukesh Acharya | VS-1224 Certified Smart Cities Professional | 09-Jan-2016 | Bangalore |
| Kunal Pratap | VS-1002 Certified Human Resources Manager | 10-Jan-2016 | Kolkata |
| Ranjeet Kumar Padhi | VS-1004 Certified Compensation and Benefits Manager | 10-Jan-2016 | Bangalore |
| Vibha Sirohi | VS-1004 Certified Compensation and Benefits Manager | 10-Jan-2016 | Chandigarh |
| Satish Govindrao Gode | VS-1024 Certified Logistics and Supply Chain Management Professional | 10-Jan-2016 | Raipur |
| Vedshree Upadhyay | VS-1051 Certified Talent Manager | 10-Jan-2016 | Delhi |
| Kj Srivalli | VS-1079 Certified Project Management Professional | 10-Jan-2016 | Bangalore |
| Sujit Kange | VS-1079 Certified Project Management Professional | 10-Jan-2016 | Pune |
| Saurav Das | VS-1083 Certified Selenium Professional | 10-Jan-2016 | Bangalore |
| Sivva K | VS-1083 Certified Selenium Professional | 10-Jan-2016 | Bangalore |
| Saravanakumar Gopalsamy | VS-1083 Certified Selenium Professional | 10-Jan-2016 | Bangalore |
| Ankita Asthana | VS-1083 Certified Selenium Professional | 10-Jan-2016 | Gurgaon |
| Priyadharshini Ponmudi | VS-1083 Certified Selenium Professional | 10-Jan-2016 | Gurgaon |
| Bhawesh Kathuria | VS-1083 Certified Selenium Professional | 10-Jan-2016 | Gurgaon |
| Supriyo Biswas | VS-1083 Certified Selenium Professional | 10-Jan-2016 | Kolkata |
| Asif Tamboli | VS-1083 Certified Selenium Professional | 10-Jan-2016 | Pune |
| Raghunath Reddy | VS-1092 Certified AML-KYC Compliance Officer | 10-Jan-2016 | Hyderabad |
| Prathapchandra Shetty | VS-1092 Certified AML-KYC Compliance Officer | 10-Jan-2016 | Pune |
| Shamira Ajani | VS-1098 Certified Marketing Manager | 10-Jan-2016 | Hyderabad |
| Vivek Devani | VS-1103 Certified Six Sigma Green Belt Professional | 10-Jan-2016 | Ahmedabad |
| Harsha A | VS-1103 Certified Six Sigma Green Belt Professional | 10-Jan-2016 | Bangalore |
| Mohan Karambelkar | VS-1103 Certified Six Sigma Green Belt Professional | 10-Jan-2016 | Pune |
| Rachit Bhatnagar | VS-1104 Certified Six Sigma Black Belt Professional | 10-Jan-2016 | Chandigarh |
| Priyandarshi Saha | VS-1104 Certified Six Sigma Black Belt Professional | 10-Jan-2016 | Kolkata |
| Trilok Chand Gupta | VS-1107 Certified World Class Manufacturing (WCM) Practices Manager | 10-Jan-2016 | Faridabad |
| Ravi Kumar AE | VS-1122 Certified Cloudstack Professional | 10-Jan-2016 | Hyderabad |
| Yesuratnam Rankireddi | VS-1134 Certified Clean Energy Professional | 10-Jan-2016 | Bangalore |
| Richard Paul Murray | VS-1157 Certified Labour Law Analyst | 10-Jan-2016 | Bangalore |
| Shaik Vafadher Kalesha | VS-1170 Certified Digital Marketing Master | 10-Jan-2016 | Bangalore |
| Akash Chaudhary | VS-1170 Certified Digital Marketing Master | 10-Jan-2016 | Delhi |
| Manish Chawla | VS-1170 Certified Digital Marketing Master | 10-Jan-2016 | Delhi |
| Nikhil Tuli | VS-1170 Certified Digital Marketing Master | 10-Jan-2016 | Delhi |
| Anirudh Arora | VS-1170 Certified Digital Marketing Master | 10-Jan-2016 | Faridabad |
| Rakesh Kaushik | VS-1186 Certified Training and Development Manager | 10-Jan-2016 | Delhi |
| Suneej Prashant Agarwal | VS-1198 Certified Risk Management Professional | 10-Jan-2016 | Bangalore |
| Rachit Bhatnagar | VS-1224 Certified Smart Cities Professional | 10-Jan-2016 | Chandigarh |
| Ashish Kumar Jaiswal | VS-1232 Certified Search Engine Optimization Master | 10-Jan-2016 | Delhi |
| Mohita Toshniwal | VS-1233 Certified Social Media Marketing Master | 10-Jan-2016 | Mumbai |
| R BALAKIRUBAKARAN | VS-1017 Certified Office Administrator | 11-Jan-2016 | Chennai |
| Deepa Nair | VS-1176 Certified Payroll Manager | 11-Jan-2016 | Trivandrum |
| R BALAKIRUBAKARAN | VS-1087 Certified TQM Professional | 12-Jan-2016 | Chennai |
-Team Vskills