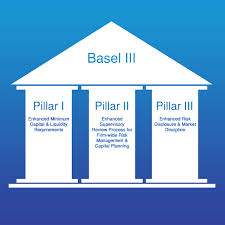 Central bank governors of G10 countries together formed a Basel committee to supervise the banking activities. Basel is an informal setup and it is not mandatory for countries to follow the regulations suggested by Basel.
Till today 3 versions of Basel has been implemented. Basel III has been adopted by RBI governor from 1st April 2013, though full implementation has been decided to happen by 2018.
Basel III has been suggested to trim down
The risk that exists in banking
The difficulties that entire financial sector or the economy suffers as a consequence of banking risks
Basel III regulations are supported by 3 pillars
Minimum Capital requirements
Supervisory review of capital adequacy
Market discipline
Minimum capital requirements insist that minimum 9% of risk weighted assets should be total regulatory capital to ensure that the bank is fit to face credit risk, market risk and operational risk. To bring in still more clarity, credit risk is the risk incurred by banks in terms of defaulters, market risk includes fluctuations in interest rates and other economic changes, operational risk takes into consideration system failure, people involved in backstage and front line operations etc.,
Supervisory review of capital requirements undergoes a supervisory review and evaluation process on banks. As the minimum capital requirement suggested in Basel III is just to handle credit, market and operational risk, this SREP safeguards the bank from other risks such as reputational risk and strategic risk to be faced through technologies and methodologies.
Market discipline standardizes minimum disclosure requirements to be met by the banks to serve market participants cinch about the risk involved and capital adequacy requirement.
This pillar also complements other 2 pillars in the regulation.
Banks in India has already started the process of accumulating capital in all possible direction to meet the Basel III norms by 2018. 9 public sector banks will be catered part of its capital by government of India, which has decided to dilute its stakes.
Click here for government certification in Accounting, Banking & Finance