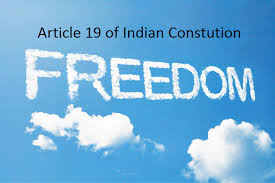 India's Constitution is said to be one of the largest constitution among the democratic countries around the globe. It has several Articles and Provision for the smooth running of the country politically, economically and socially as well.
So there is a Article that is Article 19 which deal with the Right to Freedom. This Article ensures the following freedoms:-
A)Freedom of speech and Expression
B)Freedom of assembly
C)Freedom of association
D)Freedom of movement
E)Freedom of Residence and Settlement
F)Freedom of Profession, Occupation, Trade or Business.
Therefore Article 19(1) (A) of our constitution states that "all citizens shall have right to freedom to speech and expression". But this kind of freedom is not the absolute one, its exceptions and limitations are stated in Article 19 (2). This article that is Article 19(2) states that even if Freedom of speech and Expression is being guaranteed in Article 19(1) A , still it should be keep in mind that it should not affect the working of the law or we can say that should not prevent state from making any law. This article imposes reasonable and required restrictions in order to prevent integration and sovereignty of the nation, friendly relations with foreign state, to maintain public order, decency and morality etc.
Supreme court says that Freedom of the Press is to be taken as implicit one in Freedom of Speech and Expressions. And in case of pre-censorship judiciary body of India upheld the validity of a law which deals in sanctioning the pre-censorship of motion pictures in order to protect the public interest of the nation.
So this Article 19 provides power to the press with some constraint thus helping press to fulfill its role as the forth estate of the nation so that it can provide information to the public accurately , fairly, unbiased without hurting anyone's communal norms and belief.