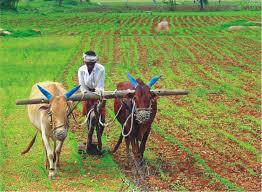 I guess every one knows "what agriculture is! ". So without wasting your precious time ;-),  I wish to straight forwardly come to my point. Today I am writing about Indian Agriculture.
1. Diversity in Indian Agriculture – Indian is a country of variety of states, with their respective religions, languages and cultures. So thus the soil content, magnitude of rainfall, water availability, etc also differ. Some areas face drought conditions while some face water logging problems.
2. Farming techniques – Indian Agriculture is still characterised by the use of orthodox techniques, a large portion still depends on biological sources of energy. Modern techniques like HIV seeds were introduced in some states like Haryana, Punjab and Uttar pradesh but still unable to reach every zone.
3. Illiteracy rate –   Usually people in primary sector have high illiteracy rate. They neigher have the proper knowledge of how to use farming techniques nor are updated. Thus their lack of knowledge results in erosion of soil fertility leading to less and poor production in the long run.
4. Lack of Investment – I guess nobody wishes to invest in primary sector. People always love to invest in jewellery, trade and money lending schemes. But a less in land improvement due to less rate of return.
5. Excessive dependence on a small piece of land – No doubt, a huge population depend on agricultural sector. With that the burden of people on a small land is also high. LIKE… In a family of 7 people- parents and their 5 children are farming on a single hectare of land. With that they have to meet all their basic needs as well have to fulfill their facilities.
This list is a long series if I continue this "tick tick" process as if someone is reading novel, don't mind I hate reading novels.
Coming to the point….. Indian government must put some more efforts for agricultural sector. I guess Agriculture is itself a provider of raw material not even to firms only but also directly to humans.
Raw materials like food ingredients,milk products; in food processing industries come from agricultural sector. What if the raw material wouldn't be of good quality!?  Then what quality food you would be eating in that case.!? What health problems, new born diseases you would get with your new generations..!?
Think once for the sake of yours, your future, your health. Are you compromising with your health.??