Intro to HR Analytics
If we compare the ever-changing world of today to the world that existed just a few decades back, we realize that human capital perhaps became the most sustainable source of competitive differentiation and value creation for an organisation. The role of Human Resource is crucial when it comes to ensuring businesses are functioning at their optimum levels. However, achieving this is no easy task, as HR teams need to manage a series of tools and resources designed to drive real insights and opportunities. These call for an approach to make decisions that are based on facts and numbers, rather than intuition and guesswork. Analytics thus takes the limelight in the HR realm today.
Human Resource Analytics (HRA), also known as Talent/ People/ Workforce Analytics, is an area in the field of analytics that refers to applying analytic processes to the Human Resource Department of an organization in the hope of improving employee performance and therefore getting a better return on investment. HR analytics does not just deal with gathering data on employee efficiency but also aims to provide insight into each process by gathering data and then using it to make relevant decisions for an organisation. In simpler words, HRA are a set of tools that measure, characterize and organize sophisticated employee data to assist in overall management.
Human Resource and Analytics
Human Resource
'Human Resources' is used to describe both the people who work in an organization as well as the department responsible for managing resources related to employees.
Analytics
Analytics is not so much about numbers, as it is to do with logic and reasoning. It involves studying historical datum to understand potential trends, analyzes the effects of certain decisions or events and evaluates the performance of a given resource. The goal of analytics is to improve the business by gaining knowledge which can be used to make improvements through changes It is different from analysis (equivalent of number crunching), on the point that though it uses 'analysis', it also tries to figure out the reason behind the figures and tries to predict decisions.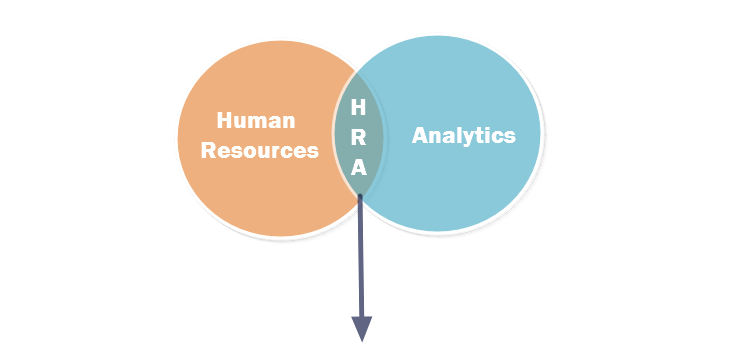 When we combine the two, we understand that Human Resource Analytics is basically the study based on the idea of data mining, used to make better decisions about all aspects of HR with the goal of improving business performance using the application of math, statistics and various computer software.
Human Resource Metrics
The core of HRA is the Metric. They are different from basic numbers and can be said as datum which conveys meaning in a given context. Example: Success in recruiting new employees.
Human Resource Dashboard
Acquiring, developing, and retaining talent are complicated tasks for any organisation. Businesses today increasingly lean on technology to understand and monitor the pulse of an organisation. Simply collecting data is not helpful unless it tells a story. That is where modern HR software and analytics comes in to play. It helps organisations gather and present employee data in an easy and meaningful way. For example:-
Where should a business spend time and money sourcing new candidates from?
What is the difference in skill level between top and bottom performers in a company?
How many high potential leaders does a company have and what are the risks of losing them?
To help spot these tendencies, an HR dashboard collects the most pertinent datum and organizes it on one screen. This information is visualized through charts, graphs, and meters. Presenting the data graphically helps monitor everything at a glance and thus, measure organisation's progress towards its goals. HR dashboards are typically interactive and hence can be customized to ensure only the information needed to achieve high priority objectives is displayed.HR dashboards are useful for analysing performance and identifying areas for improvement in an organization. They're not only important to HR managers, but for C-level executives as well. Some frequently used dashboard software are:-
Levels in HR Analytics
Level 1: Operational Reporting
This is the 'traditional' method which focuses on producing detailed reports of day-to-day organizational operations. These reports include metrics such as headcount, attrition, labour cost, training cost etc. These operational reports are usually generated with the use of a Human Resources Information System (HRIS). These reports come in different time intervals, but generally focus on the short-term.
Level 2: Advanced Reporting
At this stage, an organization reports proactively i.e. it takes actions before, rather than just responding to a situation after it has happened. This proactive reporting provides multiple views and is advanced enough to influence strategic decision-making. At this level, an organisation must be careful not to invest too much time in generating new HR metrics. Instead, it would be wise to focus on the metrics that offer real strategic value to the organization's main business challenges.
Level 3: Advanced Analytics
At level 3, an organization surpasses operational and proactive reporting and succeeds in introducing more advanced analytics. An organization uses statistical modelling to solve its business problems and, based on the data, is even able to predict the future and take decisions accordingly. An HR professional working with HR analytics at level 3, can add tangible value to the organization by proactively identifying issues and recommending actionable solutions.
Level 4: Predictive Analysis
Predictive analytics is the practice of gathering information from already existing data in order to determine patterns and predict future outcomes and trends. However, it does not brief what will happen in the future but just forecasts what can possibly occur in the future with an acceptable level of reliability.
Human Resource Information System (HRIS)
HRIS, also known as a Human Resource Information System or Human Resource Management System (HRMS), is an intersection of human resources and information technology through HR software. This allows HR activities and processes to occur electronically.
Tools used in HR Analytics
Some of the major tools of HRA in use are as follows:
1. RStudio
RStudio is a free and open-source integrated development environment (IDE) for R, a programming language for statistical computing and graphics.
2. Python
Python is an interpreted high-level programming language for general-purpose programming. Python has a design philosophy that emphasizes code readability, notably using significant whitespace. It provides constructs that enable clear programming on both small and large scales.
3. Excel
Microsoft Excel is a spreadsheet developed by Microsoft for Windows, MacOS, Android and iOS. It features calculation, graphing tools, pivot tables, and a macro programming language called Visual Basic for Applications. It has been a very widely applied spreadsheet for these platforms, especially since version 5 in 1993. Excel forms part of Microsoft Office.
4. SPSS
SPSS Statistics is a software package used for interactive, or batched , statistical analysis. Long produced by SPSS Inc., it was acquired by IBM in 2009. The current versions (2015) are named IBM SPSS Statistics.
5. Power BI
Power BI is a business analytics service provided by Microsoft. It provides interactive visualizations with self-service business intelligence capabilities, where end users can create reports and dashboards by themselves, without having to depend on information technology staff or database administrators.
6. Zoho People
Zoho People is the HR software of the Zoho Company's full suite of business applications and tools for small and medium enterprises. It is a straightforward and scalable HR solution for managing all workforce and employee-related activities and concerns. Zoho People is ideal for companies that want something that can be implemented easily and customized exactly to their needs and expectations.
7. PeopleInsight
PeopleInsight is a cloud-based workforce analytics solution designed to help companies and industries by providing useful information on their human resources operations through their data and then allowing them to apply that information to meaningful decision-making.
8. Crunchr
Crunchr is a cloud solution for people analytics and workforce planning, designed to make companies better.
9. BambooHR
BambooHR is an American technology company that provides human resources software as a service. BambooHR's services include an applicant tracking system and an employee benefits tracker.
10. IBM Kenexa
It is an IBM Company, providing employment and retention services for hiring and retaining workers. This includes recruitment process outsourcing onboarding solutions, employee assessment, abilities assessment for employment.
Pros and Cons of HR Analytics
Benefits of HR Analytics
HR analytics help in managing overall HR works in a better way by maximizing the HR role and increases employee engagement in an organisation
It enables the HR department to display its benefits and role to achieve corporate goals.
It helps in improving the overall performance of an organisation through quality decisions especially in talent hiring.
It forecasts about workforce requirements and needed skill-set for improving the overall performance of a business.
Provide information of various competitive platforms for the organization.
Optimizes talent through planning.
Help in finding the lacking areas that become the key reason for attrition and helps in maintaining high-value employees.
Finding and hiring well qualified staff for a specific position.
Helps to understand about the factors which make employees satisfied and happy.
Drawbacks of Human Resource Analytics
Security Breach-As with any computer technology and database, there is the risk that hackers may access data and use it for heinous purposes.
HRIS Cost-As with any new technology, there is a cost to license and implement a new system.
Staffing-With larger installations, there's probably the cost of hiring an IT specialist to manage the system.
Conclusion
As we have seen, HRA plays a crucial role in the overall functioning of an organisation. It takes into consideration various datum and process them so as to form a metric and further analyses it. It does so by using computer based software and has 4 different levels like we discussed earlier. HRA impacts employee's performance to great extends. However, identifying ways to engage and retain top performers is not easy. The availability of data analytics may help HR leaders in many ways. If the cause of increasing disengagement in workforce are known, HR managers can make efforts to correct them while boosting motivation and increasing retention. By using HR data analytics, decision makers can efficiently analyse outcomes of HR processes and make efforts to improve them while improving organizational effectiveness.
Data analytics not only makes the HR better, but it makes business better. When an organisation's overall working is concerned, there's no doubt that data-driven human resource management has gained vast popularity in the recent times. Many organizations encourage HR to obtain data analytics related to people-related processes – including recruitment, performance analysis, training and development, benefits, etc.