Every organisation across the world has begun to leverage on data and emerging big data technologies in order to acquire and create value. Market analysts recommend pursuing higher level certifications in order to remain relevant, competitive, and to have a well-paying profession in this increasingly competitive market. However, you must have certain skill sets in order to pursue a career in Six Sigma.
Let us know about 10 Best Six Sigma Courses to jump start your corporate career in 2022!
About Six Sigma
Six Sigma is a technique that has been in use by firms all over the globe. Firms who seek to boost profitability and eliminate errors by utilising the major phases in a Six Sigma Process: Define, Measure, Analyze, Improve, and Control (or DMAIC).
Six Sigma certification comes at a variety of levels, including –
Yellow Belt
Green Belt
Black Belt
White Belt
Master Black Belt
Champion
Lean Six Sigma
You can select a certification based on your career goals or the needs of your organization.
Let us now jump on to 10 Best Six Sigma Courses to jump start your corporate career in 2022!
10 Best Six Sigma Courses to jump start your corporate career in 2022
Six Sigma is recognised as a collection of meticulously crafted management tools and strategies targeted at improving company processes by reducing mistakes. It is a data-driven process-improvement programme that aims to make organisations function more efficiently by identifying and eliminating the fundamental causes of mistakes and increasing the accuracy of process outcomes. Let us know about the certifications that will help you gain required skills to get you started in this field –
Vskills Six Sigma Certifications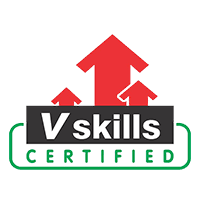 Six sigma certification confirms the ability of an individual with respect to specific competencies. Certified Six Sigma professionals have proven strength in making business management strategy. It is widely in use across industries towards quality and process improvement. Additionally, Six Sigma Certifications may increase salaries of professionals considerably. Niche skill in six sigma with set of tools and techniques which help in delivering near perfect products and services. Six Sigma emphasizes on continuous improvement of quality until the product/service achieves near perfection.
It is a business management strategy and highly recommended for QA professional / Process managers. It helps a person to see the problem in different prospective. Learning Six Sigma and applying basic statistical tools to your work life can have tremendous impact on your work in turn impact business in future.
American Society for Quality
Because of its global reputation, rigorous exam prep and training, emphasis on topic knowledge, and certification registry, the American Society for Quality (ASQ) is the finest overall Six Sigma Certification provider. A handbook, study guide, question bank, and certification prep comes in the training resources kit.
Only the Yellow Belt certification prep is self-paced and available online. Green and Black Belt, on the other hand, provide self-paced certification prep online, in a classroom, and live virtual. The amount of time it takes to study for the exam is how quickly you go through the materials. Expect it to take between two and six weeks.
International Six Sigma Institute
The International Six Sigma Institute (ISSI) provides low-cost lifelong access to course materials and future revisions. International Six Sigma Institute, founded in 2011, has clients in 143 countries and offers inexpensive Six Sigma certifications for as little as $49 for certain Belts, and the courses come with a money-back guarantee. Each programme includes lifelong access to the online education portal and future upgrades, as well as live monthly Q&A sessions.
After paying for the online programme, you have one year to take your certification exam. There are no recertification requirements or costs after passing. There are no project or affidavit requirements for any of the Belts, nor is work experience required to test.
Lean Six Sigma Institute
The Lean Six Sigma Institute (LSSI) allows students six months to complete self-paced training, and students can save more than 50% on self-paced materials as compared to instructor-led training. With this self-paced programme, you will have access to a community of Lean Six Sigma practitioners for assistance, and you will be able to finish your training on your PC, tablet, or mobile device. Aside from earning a large savings over instructor-led training, you may also engage a coach for additional assistance if necessary.
Training duration varies, but the Lean Champion Belt may be completed in as short as 10 hours self-paced or 15 hours instructor-led. Furthermore, Expect 68 hours of self-paced study or 160 hours of instructor-led instruction for the most advanced course, Lean Master Black Belt. Moreover, Self-paced training should take you about nine weeks to complete.
Villanova University
Online courses at Villanova University include simulated projects and complex animations that will prepare you for real-world applications. Moreover, Villanova University, founded in 1842, is a private college which enjoys respect for having the greatest business school in the country, lending legitimacy to its Six Sigma and Lean Six Sigma certificates. Furthermore, Professor Marv Meissner concentrates his 30 years of experience on skills that are highly useful to managers. Skills such as process mapping, prospective problem analysis, decision analysis, and other problem-solving techniques.
Each lesson needs a different amount of time. Moreover, The Lean Six Sigma Master Black Belt course, for example, lasts 12 weeks, whereas the Lean Six Sigma Black Belt course lasts 16 weeks. Additionally, The remaining classes will last eight weeks.
Certified Lean Six Sigma Green Belt, BKO Accredited Training
You will have mastered Lean Six Sigma abilities at the Lean Six Sigma Green Belt level by the end of this authorized Lean Six Sigma Green Belt training and certification course. Furthermore, The Lean Six Sigma Green Belt training and certification course is created and delivered in the Netherlands by experienced BKO BKE licenced university instructors. Moreover, The Lean Six Sigma Green Belt certification and training are based on the Dutch higher education standards BKO and BKE. Additionally, it is based on the experiences of our more than 100,000 students from 163 countries. This certification will represent those standards, making it a perfect stepping stone for your career.
Moreover, During the Six Sigma Green Belt training and certification course, the teaching method is meant to be simple and easy to comprehend while also giving you with the experience of private tutoring.
These were the 6 Best Six Sigma Courses to jump start your corporate career in 2022. We hope this article helped you to choose the best certification matching your needs.