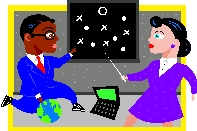 After a change has been implemented, it's important to determine if the desired effects are being achieved. Such an evaluation will help you decide whether changes to your original plan are needed.
1. Set up a review period
For example, may decide to review the results three months after implementing the change. At that time, ask yourself:
Did the change accomplish what was intended?
What specific steps can we take to make the change even more effective?
Could the change be adopted by other departments or sections in the organization?
Should the change be adjusted or abandoned entirely?
2. Talk to Your team
Try to get a sense of how they feel about the change. Are they enthusiastic, or do they seem unhappy? If team members point out any problems with the change, encourage them to suggest solutions.
3. Remember- no plan for change is flawless
Expect to have some problems along the way and be prepared to make the necessary adjustments. If the results of your evolution clearly show that the change won't work, be ready to let go of the change and move forward!
4. Work in continuous improvement
One improvement can lead to other. Avoid seeing change as a one off. Even when things are going well, be alert to ways to make further improvements.
Apply for a Vskills certification in Management now. Hurry up!