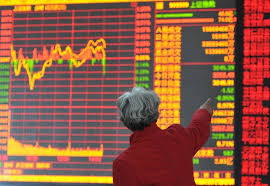 The stock market benchmark Sensex plunged by more than 1200 points and the rupee nosedived to a two year low till noon- making it the biggest crash in about seven years and the fourth biggest ever for the Bombay Stock Exchange benchmark index. Besides global developments, analysts cautioned that the slide in the rupee value, which closed on August 21 at a two year low of 65.83 to a dollar to breach the 66 mark, also dampened sentiments. Asian markets were also in deep red with Shanghai shres crashing eight per cent on concerns that the Chinese economy was slowing more than previously thought.
WHY IS SENSEX IN FREE FALL?
●Asia stocks at 3-year lows
Asian stocks dived to three year lows as a rout in Chinese equities gathered pace, hastening an exodus from riskier assets as fears of China-led global economic slowdown roiled world markets.
●Global cues
Global stock markets are tumbling after a survey showed Chinese factory activity contracted at their fastest pace since the depth of the global financial crisis in 2009. Fears of a China-led global economic slowdown also drove Wall Street, previously seen as a safe haven, to its steepest in nearly four years, on August 21.
●Rupee at lowest since September 2013
The sliding rupee is yet another cause for worry. It slumped to as low as 66.48 per dollar on Monday morning.
●Moody's lowers India's growth forecast to seven per cent
The predictions by Moody have also made investors sceptical. Fears over deficient rains in the current monsoon season and gradual progress of reforms have prompted global credit ratings agency Moody's to lower India's growth forecast for this year by 50 basis points to seven per cent.
I wish to reassure the markets that our macroeconomic factors are under control as the economy is in a much better position relative many other economies. The country has $380 billion in forex reserves to be used as and when need arises.

Raghuram Rajan, RBI governor
Click here for government certification in Accounting, Banking & Finance