Are you having trouble in managing your social media campaigns? Are you able to answer your customers on time? Do you know what your customers are taking about you? Do you know where you can create awesome social media campaigns? Do you know you can manage all your social media accounts at one place? Do you have insights of your social media campaigns?
In a shorter run it is easier to manage social media accounts but in a longer run when there are so many tasks – creation of content, finding right audience, interaction with customers, social listening, analysing what is working and how to improve and so on. It is itself a project. Creating and managing social media campaigns is not an overnight process. In order to create a powerful campaign and getting results out of it, these tools will help in achieving milestones. These tools will help you in answering all your questions.
#1. Brand24
This tool is effective for monitoring brand or product on internet. One can monitor what people are talking about brand and its products on all social media platform. This tool is apt for businesses of all kind and size. It helps to figure out sudden changes in discussion volume to protect company's image. It helps you to respond on immediate basis. It gives you analysis of mention of brand on internet, influencer score and sentimental score. Many big brands are associated with it such as IKEA, OLX, H&M and many more. This tool provides 14-day free trial followed by 3 payment plan.
#2. Brandwatch
This tool helps you in reaching customers, know about customers and give insights how they react with your brand. It provides three products: "Analytics" for online conversation analysis, "vizia" for data visualisation, and "audiences" for understanding of targeted audience. This tool has access to various integration like salesforce, google analytics, Hootsuite etc. Pricing is on request but they have demo videos on website for how they work.
#3. Buffer
This tool helps in managing multiple social media accounts at the same time. This tool helps in planning and scheduling of content from anywhere on the web. It helps in publishing, managing engagement and analysis of campaigns on different social media channel. It also helps in replying to customers on various social media platforms at one screen. It manages posts on Facebook, LinkedIn, Twitter, Instagram, and Pinterest. It provides you 7-14 days free trial and 4 kinds of offer depending on business size. One can manage upto 8-150 social accounts with up to 26 users at max. One can operate this tool in its Buffer app.
For details, login www.brand24.com
#4. Hootsuite
This tool helps in providing one stop solution for all social media needs. It helps a person to create, run and schedule campaigns on various social media platforms. It also helps in managing different campaign running at different social media channels at the same time. It even measures performance and ROI of the campaigns. It is easy to use and preferred by most of the companies. It provides you 60-days free trial to manage and grow.
#5. Sprout Social
This tool is the most robust and cohesive social media solution. It gives you in-depth knowledge of audience. It provides social media analytics, engagement, publishing and social listing. It gives you reports within few days and are more customer centric. Their customer support is also very good. It provides 30-days free trial without any credit card requirement. This tool gives clarity on what services will be provided while selecting payment plans.
#6. Crowdfireapp
This tool helps in elevating social media channels. Additionally, it helps in discovering relevant content based on interest topic, publishing content from your blog and sites, scheduling of posts and creating tailored posts for every social media channel. It also helps in creating your own RSS feed and sharing your own article with the help of chrome extension. It helps to find relevant audience by filtering it who are following and engaging despite of you not following them, who are following you back, and who unfollowed recently. This too allows free trial. One can choose payment plans monthly and yearly.
#7. Socialoomph
This tool provides platform for scheduling of content on various social media channels. It gives separate access for companies to work in a team. It provides plethora of other features like Self-destructing posts, precise scheduling, RSS feeds, bulk uploading, shortening of link and many more. It provides 30-days free trial. It also holds an affiliate program so that one can earn from references without any limit. Terms and condition are clearly mentioned on the website.
#8. Keyhole
This tool helps to understand how people are engaging with brand, campaigns, and influencers on social media platforms (Twitter, Instagram, Facebook and YouTube) and web. It analyses keywords, old campaigns, influencers, hashtags. It helps in brand monitoring and market research. It assures analysis for big and small brands. One can request a demo for trial.
#9. Tweetdeck
Tweetdeck is the tool for real-time tracking, organising and engagement on Twitter. One can monitor Twitter campaigns, automate them and measure performance with a great ease. It is one platform, where one can see all the tweet mention and replying on the same time. One can analyse pattern of responses by people of the brand. It also helps in managing multiple Twitter accounts and hashtags. One can add negative keywords and specify authors one want to track. This tool is owned by Twitter and is free of cost.
#10. Social Mention
This tool is a social media search and analysis platform that aggregates user generated content into single stream of information. It easily tracks and measures what people are talking about brand, product in real-time all across social media platforms. It is also a free tool.
#11. NUVI & Groundspark
Brickfish run these two tools. Both has unique features. NUVI is intelligent, platform for social listening, analytics and reporting. NUVI helps in creating brand awareness, engage & influence customers and works on crisis management by sending alerts on critical issues and feedbacks. Whereas Grounspark is a social management and publishing solution to promote creativity and engagement Grounspark helps in managing different posts/events, publishing them on different social media channels and analysing how effective results are. One has to request for demo for pricing.
#12. Followerwonk
This tool is very interactive for Twitter analytics. It helps to find, analyse and optimise social growth on twitter. It helps to find answers to who the audiences are, where are they located and time they tweet. It also helps to find relevant influencers. It easily shares reports to the world. To manage one account its free.
#13. Digimind
This tool is a AI powered for measuring social listening, engagement, analysis and reporting. It helps in targeting right audiences and analyse sentiments of customers for the brand. It provides plethora of features for managing social media content. It is mobile friendly too. One has to request for demo and even plans are on request.
#14. Canva
This tool helps in designing social media posts. From Facebook cover photo to Instagram stories, one can choose from various predefined templates or can create their own. It has both free and paid templates to work on. It is free tool and user friendly. It also suggests same colour scheme from your previous designs and save all your work in a folder for future use.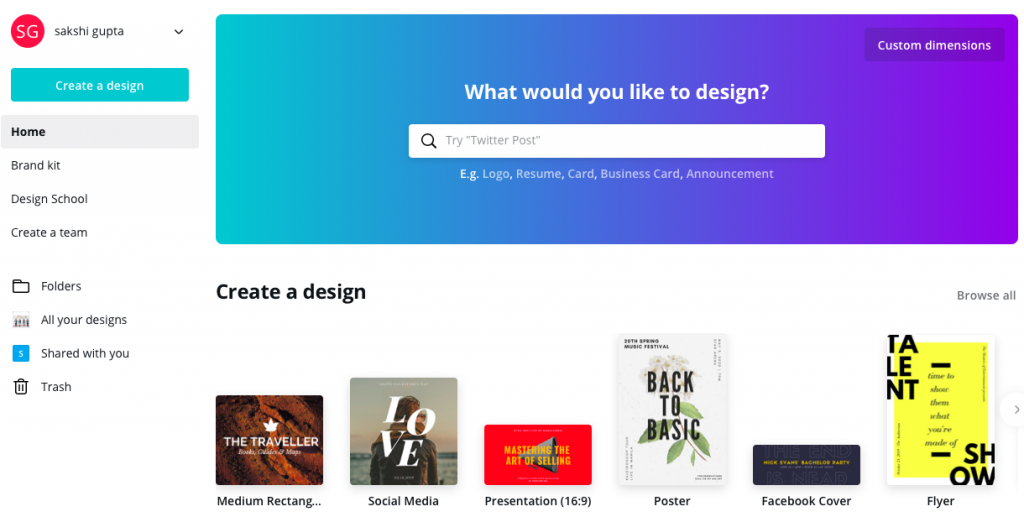 #15. Coschedule
This tool helps in planning, scheduling and managing various social media content on various social media channels. It is like a calendar and pre plan of posting a content. It helps to stay focused and deliver project on time. It also suggests best time to post a content depending on maximum engagement with the brand. It brings entire promotional workflow into one centralised location where one can manage, publish, monitor and analyse. One can sign up for free or request for demo. They have various success stories to tell.
#16. contactus
contactus by workwave is a tool lead generation and lead management at one place. It helps in tracking, managing and optimising sales and marketing team using key performance metrics. It is a platform where one can create forms for lead generation or forms for customer feedbacks and reviews. It provides solution for online presence, building brand, managing reputation and driving new business. One has to fill a form for contact.
#17. Dlvr.it
This tool is an automated platform for posting new articles or posts on various social media platform. If you have a business where you have to posts on regular basis and sharing those posts to every social media channel is a cumbersome task, dlvr.it is the platform for you. It also analyses the relevancy and reach of the posts on various platforms. This tool works on Facebook, Twitter, Instagram, Tumbler, Pinterest, slack, Google business and LinkedIn. It gives you free login with limited social media accounts access.
#18. Sendible
This tool helps in managing and oversee all social media accounts in one place. It gives direct access to canva, Google drive, YouTube and dropbox. It helps in creating dashboards, publishing content, collaboration with people, analyse the trends and social listening. It provides a unified social inbox for each brand so that work doesn't get mixed. It constantly analyses social media profiles and suggest best content that will resonate with audience. It provides a 30-day trial.
#19. Repost
This tool helps in reposting your favourite photos and videos on Instagram while giving credit to original Instagram user. It is both iOS and android friendly. It is free tool
#20 later
later is a marketing platform for Instagram. Getting traffic on Instagram account is not easy. One can upload all the photos at one time and schedule it on visual planner for exact date. Later will auto publish. One can preview it in the account whenever required. It analyses what is working and what isn't with your Instagram account. It helps in audience interaction and suggest best time to post, measuring ROI. It also helps in adding multiple tags or links in your feed or Instagram bio. One can sign in for free in individual account.
Learn social media marketing online, take Vskills certification to upgrade your skills.
Free Practice tests:https://www.vskills.in/practice/skills/digital-media/social-media-marketing