Certify and Increase Opportunity.
Be
Govt. Certified E-Governance Professional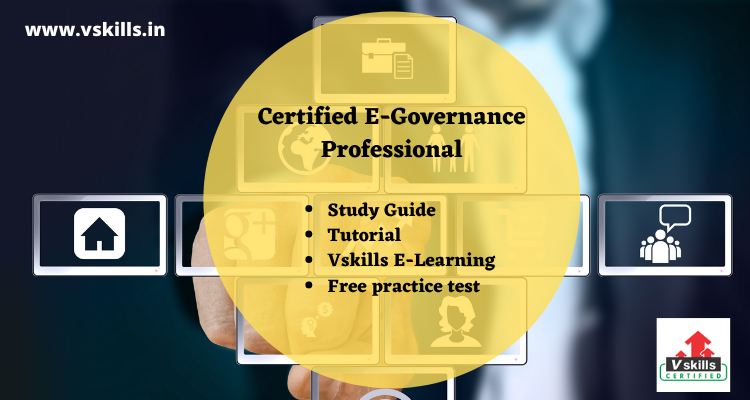 The world is digital transforming and with the upcoming technology, it is important to be upgraded and well-versed with online portals and working. E-Governance is the application of Information and Communication Technology (ICT) for delivering government services, exchange of information communication transactions, integration of various stand-one systems and services between Government-to-Citizens (G2C), Government-to-Business(G2B), Government-to-Government( G2G) as well as back-office processes and interactions within the entire government framework. Being a Certified E-Governance Professional will help you grow and explore more opportunities in your career. So let's get to learn more details about the exam and roles and responsibilities associated with
E-Governance: Roles and Responsibilities
As a certified E-Governance, you will be responsible for delivering effective administration, transparency and public service. Also, you will be responsible for implementing and executing e-projects. Moreover, you will be required to develop conceptual knowledge and implementation of E-Governance and office automation tools. To add on, you will get an opportunity to directly work on government projects which are aiming to make a digital change in the country.
Vskills Certified E-Governance Certification
With the Vskills E-Governance Certification, you develop all the relevant skills and knowledge required in the e-sector. There are various companies specializing in the planning and implementation of E-governance projects. They are constantly hiring knowledgeable professionals for better opportunities. Moreover, you will be contributing to the welfare of society. With this certification, you will get an edge in this competitive era. It will enhance your job opportunities in both the public and private sector.
Benefits of the Certification
Being a Certified E-Governance you will directly or indirectly work on planning, implementing and managing e-governance projects.
Vskills E-Governance Professional Certification can help candidate differentiate in today's competitive job market for e-governance related job openings in the private or public sector and broaden their employment opportunities by displaying their advanced skills. With this certification, you will be able to work with big companies, such as, NISG, DEity, TCS, HCL, and NSDL.
Vskills being India's largest certification provider gives candidates access to top exams as well as provides after exam benefits. This includes:
Become a Government Certified Professional.
The Certification is valid for life.
Candidates will get lifelong e-learning access.
Access to free Practice Tests.
Test Details
Exam Duration: 60 minutes
Number  of questions: 50
Maximum marks: 50
Passing marks: 25 (50%).
There is NO negative marking in this module
It is an online examination.

Course Outline
The exam covers the following topics –
Concepts and Evolution
E-governance Models
Government-to-Citizens (G2C)
Government-to-Business (G2B)
Government-to- Government (G2G)
Government-to- Employees (G2E)
Vision and Strategy
Issues and Challenges
Implementation
Managing E-Government
Monitoring and Evaluation
E-Government Project Life Cycle
Regulations and Compliance
e-Govt Plan in India
E-governance Case Studies
Computers Basics
Word Processing
Spreadsheet
Presentation Software
Database
Networking and Internet
Hardware Troubleshooting
Preparatory Guide for Certified E-Governance Professional
To crack any examination you need to have a proper plan and study guide. There is an endless list of resources that you can use for the exam preparation. For acing the Certified E-Governance Professional you need to prepare, practice, and work hard. To help you out, we have provided all of the required material and information here:
Study Resource: Exam Objectives
To clear any examination it is very important to know the course content and outline. The Certified E-Governance has the following modules which you should prepare and practice:
E-governance Models
Government-to-Citizens (G2C)
Government-to-Business (G2B)
Government-to-Government (G2G)
Government-to- Employees (G2E)
e-Governance Vision & Strategy
Managing E-Government
e-Govt Plan in India
Case Studies
Refer: Vskills E-Governance Ceritifcation Broucher
Study Resource: Vskills E-Learning
For the Vskills Certified E-Governance, our team has provided online study material. Also, this online material for this is regularly updated. Furthermore, e-learning is bundled with hard copy material which helps candidates to improve and update the learning curve for superior and better opportunities.
Refer: Vskills Certified E-Governance Sample Chapter
Study Resource: Reference Books
Books are an essential part of the preparation, searching for the right study material has always been a difficult and tedious task. There is an ample number of books available for Vskills Certified E-Governance examination. These are:
E-Governance by Pankaj Sharma
E-governance Techniques by Srinivas Raj B
Study Resource: Practice Test
Practice makes a man perfect. Practice will actually help you identify the aspects of your preparation you need to work upon. After completing your preparation you should be taking sample papers and practice tests. This will help you with self-assessment and bring out a confident person in you on the day of the exam. So, make sure to find the best practice sources.

Job Interview Questions
Prepare for your upcoming job interview with Vskills latest online interview questions, these questions will help beginners and professionals. Checkout now !