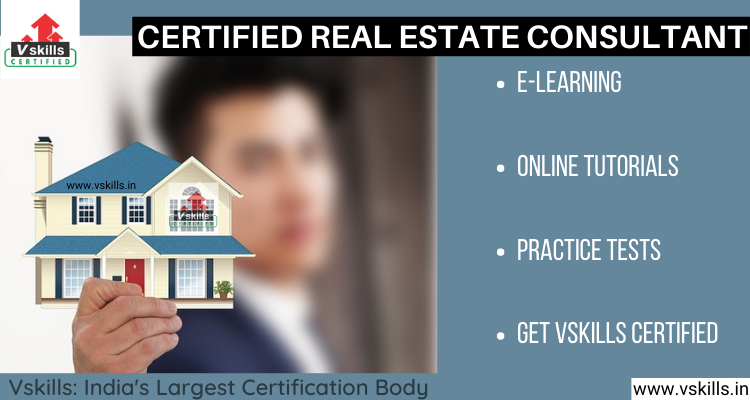 Real Estate Consultants are the professional who helps their clients in finding the perfect property. However, the role of a Real Estate Consultant is to provide insurance related to the property as per the requirements. This requires an in-depth working knowledge of the real estate industry. They also guide a client through the whole process of a monetary settlement, legal formalities as well as the construction formalities of a property.
In today's world, the real estate industry offers a wide variety of career opportunities. And, having this certification will be beneficial for candidates wanting to start their career in the real estate sector, construction companies, real estate investment advisory firms or research departments of banks.
Roles and Responsibilities of a Certified Real Estate Consultant
Real Estate Consultants provide guidance to sellers and buyers in marketing and for purchasing property under the best terms.
They consult clients on market conditions, prices, mortgages, and legal requirements with ensuring honest dealing.
They also perform comparative market analysis for estimating the properties' value. Moreover, they display and market real property to possible buyers.
Real Estate Consultants prepare necessary paperwork and also manage property auctions.
They also maintain and update listings of available properties.
Lastly, they develop networks and cooperate with attorneys, mortgage lenders and contractors. And also promote sales through advertisements, open houses and listing services.
Career Opportunities in Real Estate
Real estate is a fulfilling career that allows you to have flexibility, independence, and the ability to create a stable future for yourself while still contributing to the future of your city. Know about the Career Opportunities in Real Estate.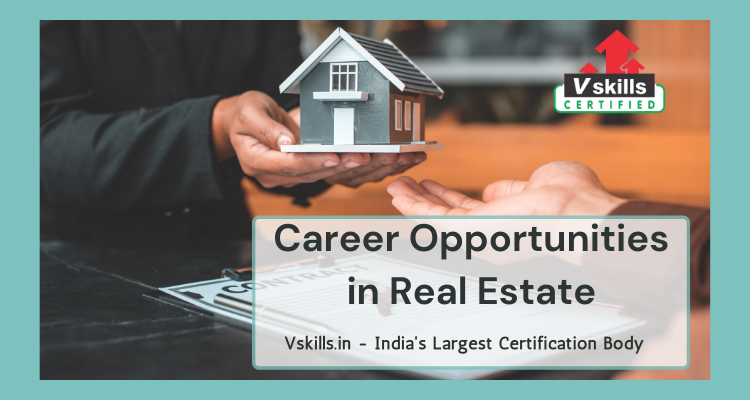 Vskills Certified Real Estate Consultant
Vskills Real Estate Consultant Certification course is good for those who have an interest in real estate. Candidates having knowledge in brokerages and leasing services, office buildings, industrial properties, as well as in property management, and counseling will be a plus point.
Vskills Real estate certification will also help candidates to increase their skills, knowledge and marketability as a real estate professional. Further, ongoing with the certification, candidates will develop a clear understanding of the real estate sector and practical aspects of real estate markets, sale purchase, construction terminology.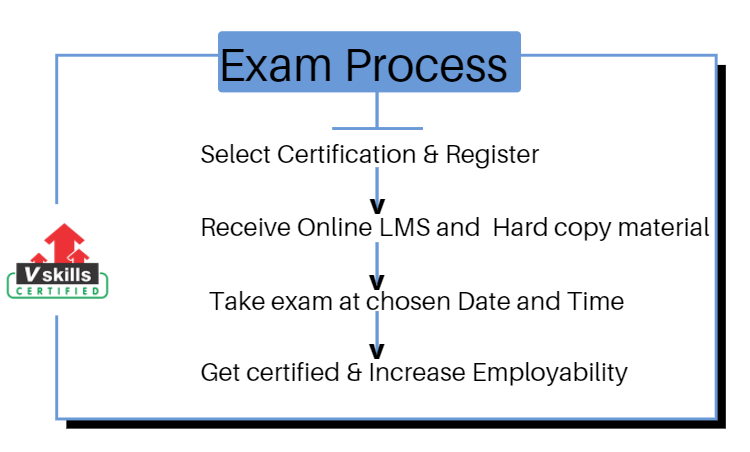 Vskills being India's largest certification providers gives candidates access to top exams as well as provides after exam benefits. This includes:
Get Government Certification
The Certification is valid for life.
Candidates will get lifelong e-learning access.
Access to free Practice Tests.
Candidates will get tagged as 'Vskills Certified' On Monsterindia.com and 'Vskills Certified' On Shine Shine.com.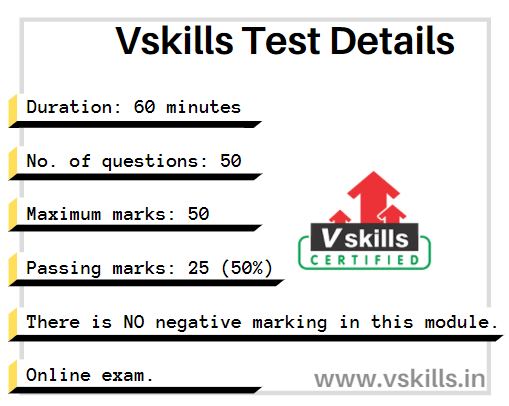 Course Outline for Certified Real Estate Consultant
Certified Real Estate Consultant covers the following topics –
Successful Real Estate Consultant
Business Planning
Prospecting & Referrals
Sales & Marketing for your Real Estate Business
Appraisal – Determining a Home's Ideal Price
Negotiating and Closing the Deal
Client Retention for Life
Real Estate Legislative Issues
Transfer of Property: Legal introduction
Agreement to Sell an Immovable Property
Sale of Immovable Property
Other Modes of Transfer of Property
Other Regulations in Real Estate in India
Important Documents & the Registration Process
Technology and the Real Estate office
RERA
Preparation Guide for Vskills Certified Real Estate Consultant
Before starting preparing for the examination, candidates should get all the exam related resources. This is done so that the candidates can start preparation in a proper manner. Moreover, doing this will not only help them understand things better but it will also help them to quickly complete the syllabus. Further, this will provide an advantage to better understand the concepts. However, in the Certified Real Estate Consultant exam preparation guide, we will discuss some of the most important resources to help you prepare well for the exam.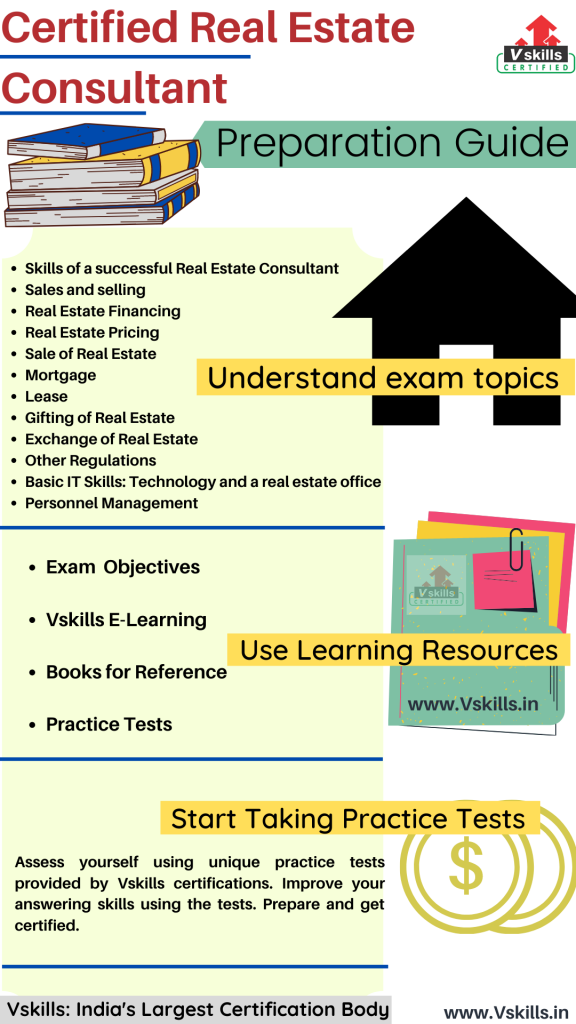 Review Exam Objectives
For any exam, understanding exam objectives provide a huge benefit to candidates during the preparation time. So, before starting preparing, the first task should be to get all the exam-related details that include the important contents and its resources. This will help candidates to easily start preparing for the exam and to understand things more accurately. For the Certified Real Estate Consultant exam the topics include:
Skills of a Successful Real Estate Consultant
Sales and selling
Real Estate Financing
Real Estate Pricing
Sale of Real Estate
Mortgage
Lease
Gifting of Real Estate
Exchange of Real Estate
Other Regulations
Basic IT Skills: Technology and a real estate office
Personnel Management

Vskills E-Learning Content
Vskills Certified Real Estate Consultant provides candidates access to prepare for the exam using the online learning material for a lifetime. The online material for this is regularly updated. Moreover, the e-learning that is provided comes with hard copy material for helping candidates to improve and update the learning curve for getting better opportunities.
Refer: Certified Real Estate Consultant Sample Chapters
Books for Reference
Reference Books can provide an advantage to learn and understand things more accurately. For the Certified Real Estate Consultant exam, there are various books available which you can find online or in libraries. Some of the books are as follows:
Mastering the Art of Selling Real Estate by Tom Hopkins
Real Estate Finance and Investment Manual Book by Jack Cummings
Evaluate with Practice Test
After completing the topics for the Certified Real Estate Consultant exam, candidates should start assessing using practice tests. Using practice tests will help them for better preparation. By assessing yourself with these tests candidates will know about their weak and strong areas. So, prepare well for the certification and get yourself Certified Tag.

Job Interview Preparation
Prepare for Real Estate Interview with our new edition of interview questions, the sole aim of these questions to help you to get placed. Checkout now !