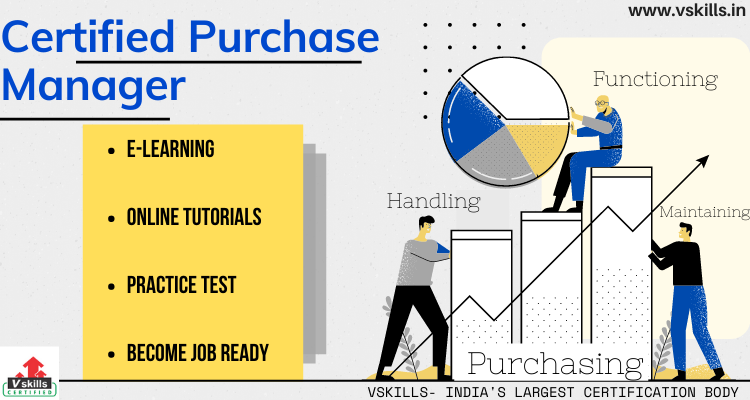 Purchasing managers are responsible for performing tasks like sourcing goods and services and managing vendors. They perform various strategic activities across multiple categories for searching better deals and finding more profitable suppliers.
Roles and Responsibilities
Purchasing Managers are responsible for developing, leading, and executing purchasing strategies.
They identify key functional metrics for reducing expenses and improving effectiveness.
Purchasing Managers link with various stakeholders for ensuring clear requirements documentation. Moreover, they forecast price and market trends for identifying changes of balance in buyer-supplier power.
They also perform cost and scenario analysis and benchmarking as well as assess, manage, and mitigate risks.
Further, they manage daily purchasing activities, supervising staff, and allocating tasks.
Lastly, they coordinate with inventory control to determine and manage inventory needs. And, also manage the maintenance of office/manufacturing equipment and machinery.
Career as a Purchase Manager
To be considered for the position of Purchase Manager, candidates must have knowledge of economics, mathematics, business management, logistics, and other related subjects. Some businesses may also favor applicants who have completed professional or technical education in the company's core field of operation. Let us look at the career as purchase manager.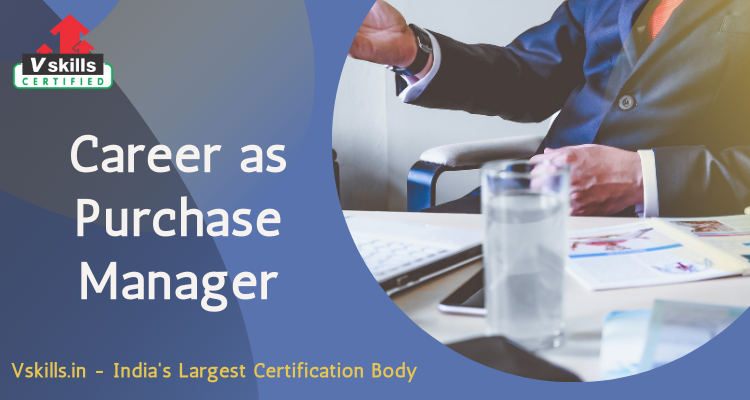 Vskills Certified Purchase Manager: Overview
The purchase manager controls the process of material handling and purchase functions while maintaining adequate and in-time purchase of the materials. They are responsible for economic-efficiency and quality of goods and services along with the smooth functioning of operations and supply chain management. However, Purchasing is not just completing transactions, a successful purchasing is the one which yields a good return on investment.
Candidates in VSkills Purchasing Manager certification will learn the process of designing, building, and sustaining a highly efficient purchasing and supply chain department. Moreover, they will gain all the knowledge and practical skills needed to improve as a purchasing professional.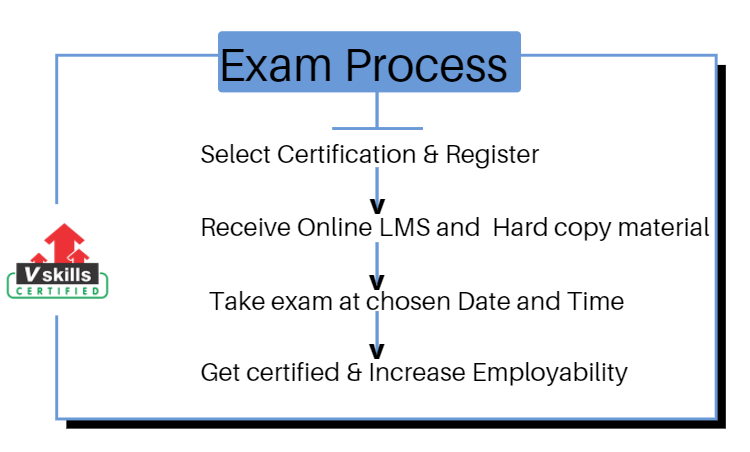 Vskills being India's largest certification providers gives candidates access to top exams as well as provides after exam benefits. This includes:
The certifications will have a Government verification tag.
The Certification is valid for life.
Candidates will get lifelong e-learning access.
Access to free Practice Tests.
Candidates will get tagged as 'Vskills Certified' On Monsterindia.com and 'Vskills Certified' On Shine Shine.com.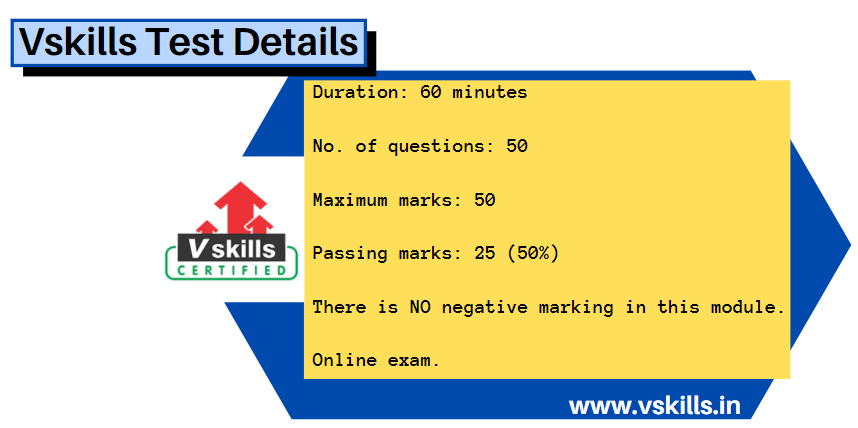 Course Outline for Certified Purchase Manager
Certified Purchase Manager covers the following topics –
Materials Planning
Material Classification, Standardization and Codification
Equipments for Material Handling
Stores Management and Warehousing
Statistical Quality Control
Additional Resources
Preparation Guide for Vskills Certified Purchase Manager
Candidates preparing for the exam should understand the importance of exam resources. During the exam preparation, it is essential to get all the required exam study resources. This will provide an advantage to understand the concepts and meaning more accurately. In the Certified Purchase Manager exam preparation guide, we will discuss some of the most important resources to help you prepare well for the exam.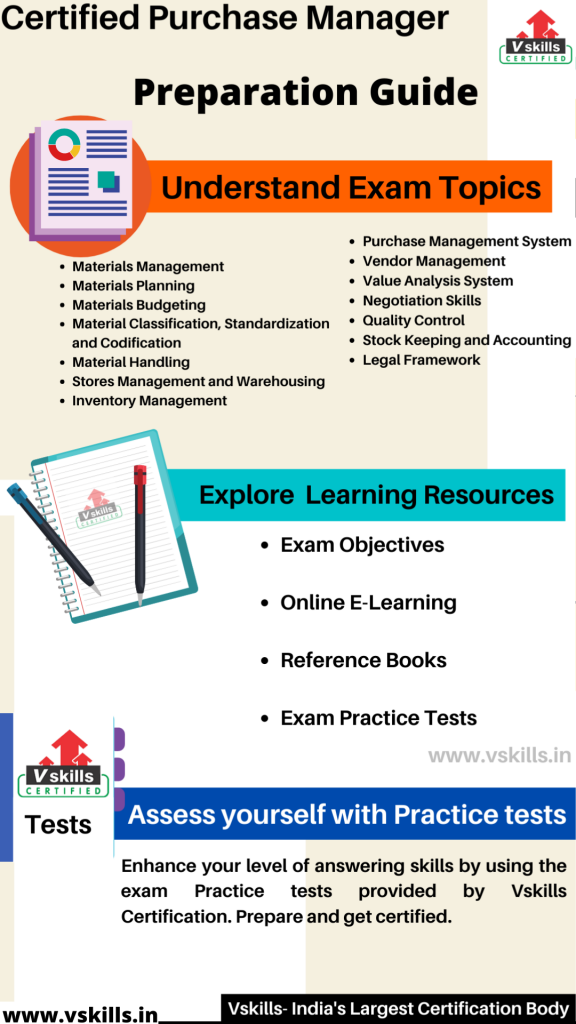 Study Resource: Exam Objectives
For every examination, the first task should be to get all the exam related details including the important contents and its topic. This will help candidates to easily start preparing for the exam and to understand things more accurately. For the Certified Purchase Manager exam the topics include:
Materials Management
Materials Planning
Materials Budgeting
Material Classification, Standardization, and Codification
Material Handling
Stores Management and Warehousing
Inventory Management
Purchase Management System
Vendor Management
Value Analysis System
Negotiation Skills
Quality Control
Stock Keeping and Accounting
Legal Framework
Refer: Certified Purchase Manager Exam Brochure
Study Resource: Vskills E-Learning
Vskills Certified Purchase Manager provides candidates access to prepare for the exam using the online learning material for a lifetime. The online material for this is regularly updated. Furthermore, e-learning is bundled with hard copy material which helps candidates to improve and update the learning curve for superior and better opportunities.
Refer: Certified Purchase Manager Sample Chapters
Study Resource: Books for Reference
Reference Books can provide an advantage to learn and understand things more accurately. For the Certified Purchase Manager exam, there are various books available which you can find online or in libraries. Some of the books are as follows:
Proactive Purchasing in the Supply Chain Book by David N. Burt, Richard L. Pinkerton, and Sheila Petcavage
The Procurement and Supply Manager's Desk Reference Book by Fred Sollish and John Semanik
Study Resource: Practice Test
After understanding and learning about the Certified Purchase Manager exam topics, it is time for practice tests. That is to say, practice tests are important for better preparation as by assessing yourself with these tests you will know about your weak and strong areas. Moreover, you improve your answering skills for getting better results. So, make sure to find the best practice sources.

Purchase Manager Interview Questions
Get ready to crack your next job interview whether you are a fresher or professional. These interview questions are solely designed to serve the purpose to enrich you with knowledge. We have curated expert questions to help both beginners and professionals that will help them to advance their career and gain knowledge to face any typical interview.