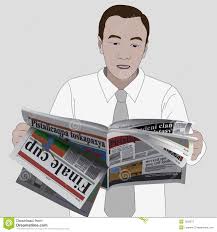 A lot many of us feel that facebook, twitter and other social media sites are enough to keep us updated about the world, so why read the newspaper. But wait, reading newspaper has much more to add to your life than just keeping you updated.
1. Makes you a better conversationalist – When you go for that five minute coffee break and your colleagues are discussing the recent launch of a spacecraft, you would be able to be a part of the conversation too. Becoming a good conversationalist means having up-to-date knowledge of the world. This will add to your confidence too.
2.  Makes you better at what you do – Yes, reading the newspaper is essential for people from all professional fields and for students alike. Reading the newspaper keeps you abreast about all the latest trends, changes, developments in every arena. So, news items related to your field of work will help broaden your knowledge and keep you well informed. And thus, it'll help you groom yourself as a competent professional. Don't forget, going for a job interview, the first question employers sometime ask is, to tell the top five headlines of the newspaper. Lol, I'm sure you don't want to lose out on that good job!
3.  Improves your skills – If you don't just skim through the lines and read with greater concentration, then each day you can add new words to your existing vocabulary. It will also improve your focus and concentration. Moreover, reading the newspaper alone, aloud to yourself can also improve your public speaking skills.
4.  Keeps you informed – Well, newspapers don't just carry news but also advertisements which keep you informed about almost everything, about the new Iphone 6 you may have been waiting for, or about your favourite singer's concert in the city. Advertisements about products, events, shows etc also come to us packed all together in a cheap easily available newspaper.
So, just take out twenty minutes from your routine each day, either while commuting or having that morning cup of tea at your desk to learn about the world, to improve your skills and for a lot more reasons! Challenge yourself if that's not your thing, but I'm sure you'll love to read it soon, once you start.  Happy reading!