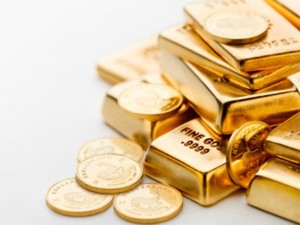 There has been a sudden drop in the gold prices in India and other Asian countries. The gold price dropped drastically on 20th July 2015. The price plunged to rupees 25,250 in India, which is a two year low level and the biggest fall in the current fiscal. In the international market the gold price fell to $1089 which is the lowest in the five years. But, people are wondering what is causing the gold prices to plummet so massively? Here are a few reasons which are responsible for the sudden drop:
Dollar strengthening: There is an inverse relationship between the U.S. Dollar and the gold prices. For example, when the dollar loses its value, gold becomes cheaper to invest and its demand increases. As a result, gold prices increase when dollar falls. Recently, the Federal Reserve Bank has announced the possibility of interest rate hike in the September. Due to the expectations of increase in interest rates, investors are willing to invest in dollar for earning better returns. This increase in demand for dollars is shooting its price up. Hence, the gold prices are plummeting. In the previous month, dollar price touched a three month high value against currencies of some other countries. This makes the gold more expensive to buy and therefore its demand is reduced.
Chinese markets: The gold reserves in china accounts for 1.65% of the total foreign exchange reserves. But in 2009 the reserves were about 1.8% of the total reserves. There has been a decline in the demand for gold from china which was, on the other hand, expected to invest more in the gold reserves. Moreover, there has been massive selling of gold in the Chinese market on Monday. Around 33 tons of gold has been sold in the shanghai market. This has led to the drastic fall in the gold price.
Policies against gold import: Recent development made by both the government and the Reserve Bank of India in the import policies for gold is also one of the reasons for this fall. Some measures have been taken to reduce gold imports in order to induce investment demand in other equities. Due to lack of demand, the price of gold has fallen.
Uncertainty in the international market: Due to the Greek crises and the recent trends of slowdown in the world economy, there is uncertainty and fear in the minds of investors. They are moving towards investment in a safer commodity rather than an unfavorable one. Because dollar is considered the safest, there has been a shift from speculative commodities to safer commodities.
These are some of the reasons responsible for the sudden fall. Market watchers and policymakers are keenly watching the trends and are hopeful that the situation will be changed. They believe that this is a sudden impact but the prices will stabilize soon.