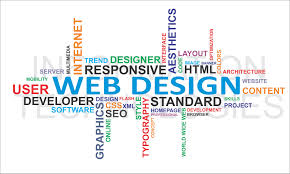 What is Web Development?
A process for creating a new website or implementing changes to one already in use. In other words, the process represents a framework within which all activities—from starting to till review. Some steps in the development process.
These are:
• Planning: Decision of making website and its use.
• Content: List of things to be uploaded on website.
• Design: Designing the layout and making it attractive.
• Construction: Most important part is the coding the design into computer language.
• Test: Before launching, testing it for any errors.
• Hosting: Choose a domain name & find a place to put your site on the internet.
• Publicity: Build traffic via publicity the site.
• Updating: Timely update of site.
• Review: Review the site at intervals it to make sure it succeeds.
As can be seen above, the development process takes place within the bounds of Business Goals and User Needs. It is these that initiate and guide the course of planning, design, content, etc. Until you explore your goals and users, your website simply has no reason to exist. As such, the first step for creating your website is to decide why you want it and who you are making it for. Also before beginning to think about website design and development you must have a basic market plan and strategy of what it is and how it will be effective.
Before we Begin
Although Website Development encompasses a set of quite specialist activities, the processes that underlie it are the same as for any other project. For example, it needs a team to carry out the work, a timescale to operate within and a set of resources to sustain it. As such, when before starting work the following basic elements must be accounted for:
• Project objective: Objective of website. In other words the basic idea of what use it is like e-portal, payment link or any other etc.
• Project team: A group of like-minded and hard working people who have the basic idea of coding, design, market strategy and and a business action.
• Budget: Has a unique role to play about how much should be invested and where like how much on graphics, how much on location etc.
• Timeframe: The time duration of making. Although not an important one but still one needs to look for the time and should complete the work within that stipulated time.
• Analysis of project risks, dependencies and assumptions, e.g. what could go wrong? What contingencies are in place, etc.
• Market Strategy: Important task of what should be the basic design and ongoing market demands.
• A system for project management.