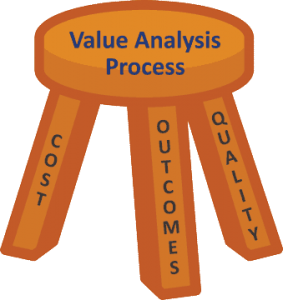 Value analysis is one of the most important tools in the hands of management and refers to the multidisciplinary method of enhancing  the product value by improving the relationship of worth to cost through the study of function.
It tries to eliminate the costs that provides neither quality,nor use,not life,nor appearance,not customers satisfaction.It is described as a systematic analysis and evaluation of the techniques and functions in all spheres of an organisation with a view to explore the channels of performance improvement so that the value in a particular product can be bettered i.e possibility of performing the same function more safely.
Value analysis always aims at cost reduction from the point of view of value assuming that every thing can be improved and therefore there is always a way to make things better and do things better.
The term value analysis and value engineering are often interchangeably as both have many identical steps in their working procedure
Value analysis can be applied to any kind of cost, when the product is in  production stage.
Click here for government certification in Accounting, Banking & Finance