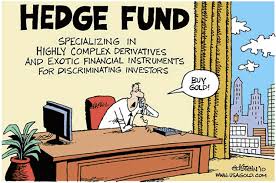 What are hedge funds?
Hedge funds can be defined as a portfolio of investments which is aggressively managed using advanced investment strategies such as long, short, leveraged and derivative positions in domestic as well as international markets with an aim of generating high returns. Hedge funds are usually established as private investment partnerships with limited partnership, limited liability structure. Hedge funds differ from mutual funds as the use of leverage by hedge funds is not limited by regulators because mostly they cater to sophisticated investors and they invest mostly in relatively liquid assets unlike private equity funds. In US, there are laws which require hedge fund investors to earn a minimum annual income and have a net worth of about $ 1 million and require them to have a reasonable knowledge about investments. In simple terms hedge funds can be understood as mutual funds for rich people.
How do hedge funds work?
Global hedge funds are a crucial part of alternative asset management industry which forms an important component of asset allocation of accredited investors. The simple goal of hedge funds is to provide positive annual returns to its investors. They achieve this by diversifying their strategies across different asset classes: commodities, equities, debt and a wide range of financial instruments like options, futures, forwards, swaps and other derivatives. But in India this particular asset class is not that prevalent because hedge funds focus on long term investments and there is no proper regulated hedge fund structure in India. SEBI has proposed some AIF regulations to change this attitude and trigger hedge fund industry to encourage investors and wealth managers.
The key tools used by hedge fund managers to generate positive absolute returns are hedging and leverage. The focusing of hedging is to protect the portfolio against sharp changes in markets. Any hedge fund manager would buy those that have bright long term prospects and would sell those assets which have poor prospects. Hence hedging plays a crucial role to maintain the absolute return characteristics of the portfolio intact to generate absolute returns in poor markets. Leverage is all about taking on positions that are larger than capital invested. For example, for every 1 lakh of capital given to a mutual fund manager, he takes 1 lakh of positions, whereas a hedge fund manager would take 2 lakh of positions for same amount of capital.
What strategies are implemented?
Different strategies used in hedge funds are basically classified into four types:
Global Macro Strategies: Global macro strategies are those where in a hedge fund manager takes into consideration and anticipates different macroeconomic events to generate risk-adjusted return. It is very important to know the timing of implementation of these strategies though these strategies offer high flexibility.
Directional Strategies: These strategies utilize trends and inconsistencies in the market before choosing stocks from different markets. These stocks will have a high exposure to fluctuations in the market
Event-driven Strategies: Different investment opportunities and risk associated with a specific event use these strategies. These specific events could be corporate transactional events like acquisitions, consolidations, recapitalizations, liquidations and bankruptcies.
Relative Value Strategies: These strategies take advantage of price discrepancies between different securities. These price discrepancies may be due to mispricing of securities.
Click here for government certification in Accounting, Banking & Finance