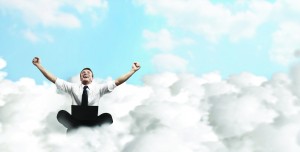 Nowadays we all struggle to be placed in our dream jobs, Learn different skills get certified and try to do every possible thing which can land us in our dream jobs. Instead of doing all such things there is always a dilemma in our mind whether we are on right track?
One old rule to get your dream job is to increase your network. So here are nine tips which will help you to land in your dream job (I have tried to compile best possible ways so feel free to give it a try).
1.  Be Clear with what you want.
Before you step out for an interview or network with your employers be clear about your goals and dreams.  Sounds so simple and you might feel what's the point of stating this point here but according to a recent survey most of the job seekers are unable to express their goals in front of their recruiters. "If one is  unable to define his/her goals or is not able to express them in front of others then eventually he/her  is wasting their time and they won't be able to guide him/her  further."
2. Learn to be more Flexible.
You may not be able to work for your dream job in beginning for some time may be a year or five but you need to accept other opportunities that comes in your way.  And recruiters will understand and reward you for this. Nowadays recruiters look for a candidate who has experience and is a quick learner.
3. LinkedIn Profiles.
LinkedIn plays a vital role to land in your dream company, more than 90% of potential employers use LinkedIn to find talented candidates, even when looking to fill top positions in jobs. So try to turnoff irrelevant updates this include casual photos, incomplete or irrelevant profiles and sloppy writings. (It should have all that's on your résumé)
Turn-ons for this site: Recommendations from your peers, thorough description of work accomplishments and achievements, involvement with groups, and content. Your profile should  "provide your career narration rather than providing your daily life incidents."
4. Keep in mind your intangibles.
Exceptional skills, certification from government and MNCs, Outstanding qualification and schooling experience, these all play a vital role to shortlist you from other candidates. Candidates who is certified and have completed his/her education from a government college or recognized university is likely to be preferred from the one who is studying in a private university.
Recruiter focuses on intangible qualities like leadership and EQ. If you are able to express yourself in front of others and possess good communication and networking skills than you might beat the one who got 90% marks and is unable to express his views.
5. Adopt change with the pace of business.
Companies want people who can promote their product. You need to demonstrate your professional pace and how well you are able to adapt yourself in the changing environment so that you become a contributor to the growth of your company.
6. Apt use of social media for creating your brand.
Social Media must be used to have a positive impact on our co-workers and recruiters. Avoid posting updates which might put your personality into question. Twitter and Facebook are used by employers to judge our networking skills so try to make your profile as clean and as professional as possible. You might be asked for your account links during an interview so be prepared for it as you might end up cursing yourself for updating vague posts.
7. Find ways to stand out.
You are one among 300 million creative job seekers of the world. Some recruiters say they don't have time to go through résumé attached with the job applications. So what helps you stand amongst the crowd is your research work and dedication towards your job application. Try to make it impressive enough to gain recruiter's attention but don't forget you have to be really careful with what you are writing in your job application. Don't write vague or fake achievements and skills because recruiters are smart enough to judge your real personality during an interview.
8. Appoint your own board.
To pace your skills and get advice create your own personal board of directors made up of trusted professionals you've worked with previously. You need to make a group of three to four trusted professionals this may include your seniors, teacher, guides or mentor. Ask them about your progress and guidance for making your next move. Remember they are more experienced than you so they can guide you and let you now another aspect of the things you are planning for.
9. Don't look too hard.
Recruiters look for "Passive Candidate". They look up for candidates and ask them about their previous work experience to judge their personality. A person who is unhappy with his previous job and taking out faults in that company might take out faults in their company too. So be careful with the words you quote in your interview and try to be yourself as much as possible .Give your best and avoid negative comments.