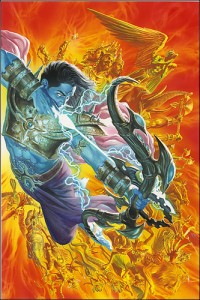 During the 70s, 80s and even at the early 90s, Indian Channels were not dominated by Saas-Bahu Drama or by Reality Shows but by shows like Ramanand Sagar's Ramayana and Krishna, BR Chopra's Mahabharata, Singhassan Battissi, Chandrakanta etc. Fast Forward to early 2010 this mythological shows have made a comeback not just in tv but also in movies.
Shows like Mahadev, Mahabharata, Ramayana, Singhassan Battisi etc have made their comeback in TV with beautiful dramatisation and graphics which has influence millions and millions people not just in India but also worldwide.
For Example Mahabharata which was produced by Swastik Pictures have a major fan following in Indonesia too. So the question rises why there has been an increase in the popularity of the mythological shows.
Some believe that people are bored from day to day Saas-Bahu drama as they show the same things again and again. For Instance- Killing the main lead of the daily soap and then bring him back from the dead or Bringing the same villains again and again etc
Experts believe the need of watching something new, something different has lead to the increase in the popularity of mythological series.
Although the mythological series is gaining popularity week after week, they have also received some criticism too. Some veterans who have been part of the mythological series in the early 70s and 80s believe that the current mythological shows have twisted the stories in order to add spice so that they can attract more and more viewers to watch their shows.
They believe that the shows are against to the true essence of the characters and hence they should be banned from being telecast in the national television.
Whatever the views might be the growing popularity in the mythological tales or shows is increasing day by day and is not only influencing us but also helping us to grow as an intellectual individual.