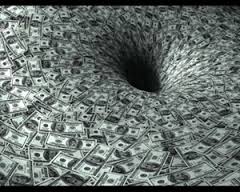 WHAT IS BLACK MONEY?
Let us say I bought a property for Rs.8 crore.I paid Rs. 5 crore in cheque and the remaining Rs. 3 crore in cash to the seller.The seller deposited this cheque in a bank and a sale deed of Rs.5 crore was prepared for the property.Now,this Rs.3 crore of cash remains unaccounted for and is termed as BLACK MONEY.
To be more precise,when money is not disclosed to the government for the purpose of evading taxes or because it was generated in a wrong way,that money is known as black money.
HOW CAN THE GOVT. USE THIS MONEY?(ps-if recovered)
1)Zero tax-Govt. can prepare and announce a budget to fund its expenses such as salaries,welfare schemes e.t.c even after offering no tax for a year for all firms and individuals.
2)Infrastructural development-Imagine the construction of thousands of speciality hospitals or schools or free wifi zones or expressways and what not in your city totally funded by the govt.
3)Uprooting poverty-After recovering the black money,the govt. can literally distribute it amongst all the poor households of the country or offer them guaranteed jobs in order to eradicate poverty .
THE BLACK MONEY ACT,2015
Black Money (Undisclosed Foreign Income and Assets) and Imposition of Tax Bill, 2015 (popularly Black Money Act) is an Act of the Parliament of India. It aims to curb black money, or undisclosed foreign assets and income and imposes tax and penalty on such income. It came into effect from 1 July 2015.Under this act,special investigation team has been set up to detect undisclosed income and compulsory reporting is required for assets held abroad.Many other measures have been taken by GOI under this act.
It is estimated that if the black money worth 500 billion dollars will be disclosed and taxed at 60%,the govt. would get Rs.17.8 lakh crore just as tax income.
Click here for government certification in Accounting, Banking & Finance