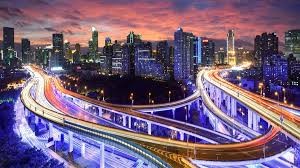 Countries major urban landscapes are to be recasted with the smart cities, on 29th April (wednesday) the Union Cabinet approved for spending worth Rs 98,000 crore under two new urban missions for next five years. Under this mission- 100 smart cities will be build and the Atal Mission for Rejuvenation and Urban Transformation (AMRVT) is for 500 cities with a total amount of Rs 48,000 crore and Rs 50,000 crore respectively.
As per the mission, Rs 100 crore per year will be given consecutively for 5 years, said the government. Cities to be developed will be selected through a competition intended to ascertain their ability to achieve the objectives of the smart cities mission. Each state will shortlist a number of smart city aspirants, which will prepare proposals for the Centre.
The main motive of the mission is to utilize available assets to enhance the quality of urban life and provide a clean and sustainable environment. The government also added up saying "Special emphasis will be there on participation of citizens in planning urban interventions , It will be implemented by 'area based' approach, which includes, development of new cities e.t.c"
The main focus will be on the core infrastructure, services like adequate and clean water supply, sanitation and solid waste management, affordable housing for poor, robust IT connectivity and citizen participation.
AMRVT, will be implementing in 500 locations with a population of one lakh and above. These includes to the houses placed at the stems of the main rivers, few capital cities and important cities located in hilly region, especially tourist spots.
States will submit annual action plans to the Centre for broad concurrence based on funds will be released. A minimum investment of over Rs 2 lakh crore could be spend on the urban areas over next 5 years. Private investments could be mobilized by states and urban local bodies through PPP models as required to reach the project costs.