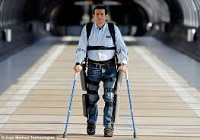 Our technology has advanced to a great extent so much so that we can make anything possible. Whatever we imagine or think of changes to an idea to a prototype straight away. And then it takes no time for it to change into a reality! Robotics for instance is one of the many technologies we come across these days.
Robotics has been able to change our lives and will keep changing in the near future. Out of the several areas where Robotics has helped us progress, one of them is being the need of the hour for the handicapped. Just imagine how simple and normal life can a handicapped person live with Robotics. Here are some of the instances that tell us how Robotics can be useful for the handicapped:
Automated Home – Just when we wonder that a handicapped person has to rely upon his or her relatives and friends in order to live a normal life, we might be wrong because with the advent of Robotics everything in the house can get automatic. With just a push of a button the doors get operated, the shower of the bathroom opens, TV or AC switches 'on' and so on. If a home becomes completely automated and well designed according to the needs of the handicapped, his or her life would be similar or rather far more comfortable than a normal person.
Robotic Wheelchairs – We have come across the normal wheelchairs that simply have wheels and brakes on it and just help carrying the handicapped from one place to another. Better than that is the wheelchair that comes with a remote control that makes a handicapped move and function no different from a normal human being. An automatic or Robotic wheelchair comes with dozens of applications. For instance, a joystick in the handle of the wheelchair helps operate the movement by the handicapped himself. Apart from that, there are facilities of turning the wheelchair into a bed cum standing support that can enable the patient to stand up and roll on the same wheels from one room to another. There could be much more ideas that can come with the wheelchair. The best example would be that of Stephen Hawkings'.
Robotic Driver-less Car – With the advent of the GPS system, it is possible to track a location on Google maps, get directed by the car's system and reach the target location. There are many vehicles and cars that have come up with this technology. In fact this technology is quite common in cars these days. The idea of how it could be useful for handicapped person living alone or otherwise is that the car comes without a driver in this idea. With this driverless concept the car is basically moving on its own after locating the spoken or entered location on its system. All in all, the handicapped rider just needs to enter or speak out the location of the place to reach and the system of the car traces its direction through Google maps and GPS, and viola! All it needs to do next is move onto that traced location on its own.
Domestic Robot – This is more like a robotic servant that does not need to be paid! All it needs is charging and Sunlight. Isn't that cool!? A handicapped person is always in need of helper in life. What better could it be than a domestic robot? A robot that does not need leaves and doesn't need to get paid; can get nearly every mechanical or physical work done, and much more. It is the ultimate requirement for a handicapped person who lives alone. The same robot can be capable of providing the best security from theft and other threats to the needy.
Powered Exoskeleton – As the name itself suggests an exoskeleton that is Robotic can help the handicapped walk and move. The exoskeleton is no different from a skeleton of a human the only difference being that it is external. The body of the handicapped is controlled by the exoskeleton that is more like a frame for the body externally. With this, every handicapped person can live his or her life the way they want to.
Some things once lost are a misery or pain for life. But with advanced technology like Robotics we can change the scene and make lives better.
Click here for government certification in Information Technology