Resilience – how bouncing back may be the single most important thing for success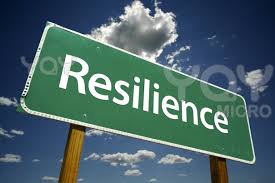 The most commonly known definition of Resilience is "Bouncing back". We all our told to never take stress when faced with an adversity, we are told to bounce back. But have you ever asked the question bounced back to what; from what?
Herbers and Reed(2009) define resilience as " a class of phenomena characterised by patterns of positive adaptation in the context of significant adversity and risk." From this definition we can infer two things about resilience:
there needs to be a significant adversity or risk that the person faces. A person won't be called resilient if he/she is able to face his exams. But a child who has faced from a lot of physical abuse and social deprivation and still is able to lead a healthy and successful life will be called resilient.
Also the second aspect is that the person should be judged as doing at least okay with respect to a set of expectations for behaviour.
We see many people going into severe depression or suffering from significant stress which is very disheartening. But we have also heard of stories wherein people who have suffered from a lot of stress and abuse and trauma in their lives are leading successful lives, and we feel happy when we hear such stories. These are people whom we may call resilient.
There is a considerable amount of debate that goes in between the psychologist in terms of "Bounced back to what"? Its important that these questions be answered in light of a persons culture and expectations of the community. Cultural forces determine whether the person focuses on positive educational outcomes, healthy within family functioning or psychological well being. Some cultures value healthy family relationships other cultures value professional success.
Dr. Emmy Werner sometimes called the "mother of resiliency" has done several extensive researches to study what leads to resilience amongst people. She states that two primary characteristics account for resiliency in children which are:
they are born with outgoing dispositions and,
they are able to engage several sources of support.
Resilience though being a hereditary trait, some psychologists suggest that resilience can also be acquired and taught to children. The following strategies can be developed in childhood and we should strive to adopt as many of these:
Fostering secure attachment relationships between infants and parents through training programmes
Healthy nutritional habits has also been linked with increased resilience.
Parents should ensure that they minimise the family discords
Being part of many pro social organisations such as schools and clubs, enrolling in such clubs also leads to increased resilience since the group membership leads to increased sense of social support
People should also nurture high self-efficacy in their lives and have positive thinking along with a belief in their capabilities.
At last i would like to conclude by saying:
"Tough times don't last; tough people do"
Click here for government certification in Life Skills