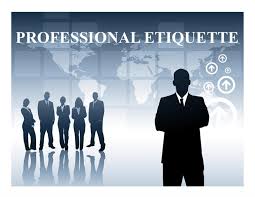 "Good manners will open doors
that the best education cannot."
      –   Clarence Thomas
With the increase in the global economy and job markets, there is an increase in the number of job opportunities  and various career prospects. But this also brings in the increased anxiety level among the youngsters regarding the selection, job retention and displacements. Apart from the other things like education profile and work experience, the candidate with the most impressive etiquette is hired first, promoted sooner and enjoys greater security in his position. Recent studies indicate that 85% of a person's success in getting and advancing in a position lies on people skills, and only 15% on technical knowledge.
The first step towards success is getting a job and  interview is an important part of it. And as they say "First impression is the last impression" ,it becomes even more important to present yourself well and create a strong impression on the employers.Some important things to keep in mind are-
On the D-day, reach the venue sufficiently early and relax. Interview is not the best place to be late and show nervousness.
Interviewers not only see the content of your speech but also your body language, the way you dress up which represents your attitude and personality. For example:- Your back should be straight while sitting, a hunched back represents nervousness.
Greet the board with a smile and shake hands, if offered. Maintain eye contact with the board members.
Make sure you remember your resume by heart and be ready to answer any question based on it.
Prepare answers of a few expected questions and visualise the interview.
Be attentive and answer with precision and enthusiasm.
There are a few things which you should strictly avoid. Don't sit frozen like a rabbit in the glare of headlights. Don't just say Yes/No for an answer, expand on that. And don't try to change the topic of the discussion showing that you have no idea about what is being asked.
After the interview it is prudent that you follow up by mail which will indicate that you are genuinely interested in the job and may tilt the balance in your favour.
A person's etiquettes and manners reflects his/her personality and attitude towards his goal in life and how much he wants to achieve. Thus in order to walk hand-in-hand with the changing trends in the job market one should definitely focus on inculcating good manners and etiquettes to enjoy greater success in life.