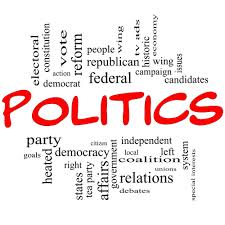 Politics: Is it a Business or Social Welfare?
A business man arrange the goods and services and a household consumes or uses it. He adds his margin of profit in the incurred cost hence earns profits. On profits he pays tax, registration fees, license fees, fines etc. to the Government. Some households also pays fine and taxes.We should not forget that paying taxes is a social welfare.
On the other hand in politics , politician being a part of the local , state or central government directs and control the business and collects the revenue through various direct and indirect taxes. They  make & implement new rules, amend or remove existing rules to control the business. They tries to safeguard the interest of the households as well as businesses. The Government works through system and procedure and huge amounts are spent  in implementing the policy. It  insists businesses to do task  as they wants. It has a duty and responsibility to do development task by rationally using the available revenues and resources.
Government makes various  schemes for the welfare of poor and other less privilege households. In real the beneficiary gets less amount, because government officials including political leaders receives amount for their services in the forms of salaries, perks and other benefits.  Farmers are still poor and helpless. Farmers really works hard, they do not have a fixed salary or income, they have to work for their salary and income.
Politicians are becoming rich day by day through the medium of social activities. It seems that they became politician not for the welfare of general people but only for the amenities and facilities for themselves. They are using politics as a business to increase their status and wealth. They should remember that the revenue & resources of the government is not for the facilities of politician but for the development & welfare of the general public as well as for the promotion of business activities.
Click here for government certifications