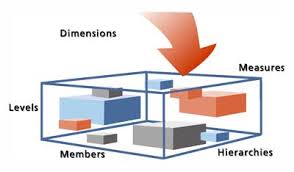 What is OLAP:-
OLAP i.e. online analytical processing is linked with processing of data as it is manipulated for analysis.
The data warehouse provides the best opportunity for analysis and OLAP is the vehicle for carrying out involved analysis.
Definition by OLAP council-
OLAP is a category of the software technology that enables analysts, managers and executives to gain insight into data through fast,consistent, interactive, access in a wide variety of possible views of information that has been transformed from raw data to reflect the real dimensionality of the enterprise as understood by the user.
Need for OLAP:-
Since , in today's business conditions users need to go beyond basic analysis. Therefore they must have the capability to perform far more complex analysis in less time.
For effective analysis, users must have easy methods of performing complex analysis along several business dimensions. Therefore they must have ability to drill down and roll up along the hierarchies of every business dimensions.
Since, in analytical system, time is a critical dimension, thus true analytical systems must recognize the sequential nature of time.
Users must not be penalized for the complexity of their analysis. Therefore, both the effort to formulate a query and time to receive the result sets must be consistent irrespective of the query types.
Click here for government certification in Information Technology