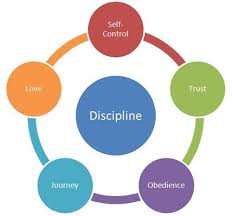 Man is a social being, he lives and dies in society. So he has to follow all the norms and rules of the society, for this he has to be discipline himself. Aristotle said " Discipline is obedience to rules formed by the society for the good of all" 
So friends, without discipline and rule regulation no one get a big achievment in his future. Discipline lead to success. At this time our country is facing many problems.due to absence of discipline to overcome the problems we need disciplined youth because without being disciplined the future of our country is not bright.
Prosperity of a family depends upon the unity of its members, without discipline there will be chaos in the family , so the members of a family must obey the head of the family..same example goes for our whole country…our people are our family..and the leader is our govt.
Schools and colleges  are abode of learning without peace of mind, We can't acquire knowledge, as discipline is very neccessary. A teacher cannot teach efficiently if the class is undisciplined, so school , college and education this how depends on discipline
Importance of discipline can't be denied in the field of army. A discipline army becomes successfull. Take the example of Baburb, the founder of the Mughal empire in India defeated 1 lakh undisciplined soldiers of Ibrahim Lodhi with the help of only 12 thousand well trained and disciplined soldiers
Displine is neccessary in Games and sports too. Players must obey their captain , this is very neccessary to win any match
In the concluding lines, I want to tell you all that without discipline our whole country can't overcome the problems in futere becoz.
" Indiscipline leads to failure while discipline opens the road of success".