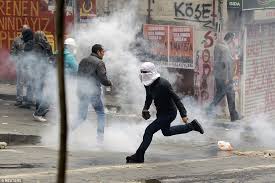 1st May, every year is celebrated as International Workers' Day or Labour Day or May Day so as to commemorate the labourers and working classes, and is promoted by international labour movement, socialists, anarchists and communists. Generally, peaceful protests are observed on this day to focus on labour and immigration issues. However, on Friday, protesters clashed with the police forces in the west coast cities of the U.S., with a riot ensuing.
In Seattle, anti-capitalist protesters hurled wrenches and rocks, forcing officers to respond with stun grenades and pepper sprays. Footage on the internet shows riot gear clad policement through flashbang grenades on the crowd to disperse them. In response, protesters set garbage cans on fire and destroyed atleast two dozen vehicles.What was supposed to be a peaceful demonstration, turned into a riot. Atleast three officers were injured, two seriously with about 16 people arrested.
In Oakland, after a day of peacefule protests, crowds assembed through the streets in the night. More than 100 windows at businesses, restaurants and banks along the route were damaged in Oakland, and several people taken into custody overnight. One vehicle was destroyed and several others damaged in a local car parking lot.
In Portland, pepper sprays and stun grenades were used when some demonstrators threw objects at officers and tried to force their way onto a bridge, injuring one officer in the process.
However, in many areas, the protests were peaceful. In Baltimore, the protests were peaceful, after the officers involved in the manhandling of Freddie Gray, an African-American, were prosecuted. Gray was brutally beaten and died of spinal injuries on Monday. This incident was a national outcry and another example of the suppression of minority African-American by the white-dominated U.S. law enforcement establishment.
Such riots undermine the spirit of the public holiday which was being celebrated, and spread a wrong message across the world. International Labour Day is a day to raise the awareness about the upliftment of the labour and working classes, and to jointly work for their welfare. Such violent protests should not be encouraged.
Click here for government certifications