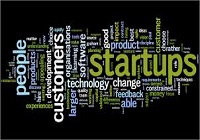 LOW BUDGET START-UP's: The businesses started with low cost investments or with low budget in the first place. Funding or raising money for business operation is a complicated and time consuming process, but it is has to be done. Usually, businesses start with low investments and are picked up from scratch to making them BIG companies. There is a familiar belief that starting a business needs a huge dosage of investment but it's not the case for every type of business. You can run businesses with low investment, even from your home as not all start-ups involve hundreds of thousands of dollars.
But lack of funding puts dreams of many intending entrepreneurs on hold – let's face it, a start-up needs money for initial infra-structural costs (be it buying systems, capital goods and other set-up costs) and also needs money for running day to day business operations till the time the business does not make enough money or working capital. After, all that is required and having low investment in business- the start-up can fail as it has many disadvantages as well, another reason can be marketing problems done at low cost or no cost.
So having started the business at low cost can create up a lot of problems or the road to success can be pretty tough. But you have to keep faith and trust in yourself as here are some start-up stories to invigorate your work and teach you regarding the success of businesses with low initial cost investment!
First, comes the
This company is an aggregator of budget hotels, it operates in more than 100 cities of India. Earlier it started with ONE city- Gurgoan (Delhi NCR), because of small capital structure but providing standardized hotel rooms with various features as air conditioned rooms, complimentary breakfast, 24*7 customer services and Wi-Fi services. Ritesh Agarwal, CEO was selected for the "20 under 20" Thiel Fellowship in 2013. The Thiel Fellowship is a two-year program wherein fellows receive $100,000 and mentorship from the foundation's network of tech entrepreneurs, investors and scientists. Ritesh,21 used that money for his start-up idea, he succeeded and later in 2012 it got the first round of funding from venture nursery, in 2014 another round came from Lightspeed ventures and again, 2015 raised around $ 125 millions from Sequoia, Softbank and San Francisco based Greenaoks capital. Now after all the hard work and exercise this company now has 2000+ hotels in 120+ cities across India and is expected to be valued at $ 400 millions – so basically hoisting the work from a worth of less than 1 crore to more than 2500 crores is prodigious!
This is one major hit despite the low investment cost in business, flipkart was once a start-up, founded by Sachin Bansal and Binny Bansal in October 2007 – this company merely started with an investment of just 4,00,000 rupees to develop its website but it has enormously grown up to be one of the best e-commerce website. Later it raised funding from venture capital funds Accel India US $1 million and Tiger Global US $10 million and US $20 million later on in 2012. By late 2014 it had raised more than 11 billion dollars from existing investors, later on to becoming to the 1st 100 billion dollars online company. Not just that FLIPKART grew with more acquisitions and mergers like hiring Myntra.com and other subsidiaries also. The company now employs more than 33,000 employees with a lot of functions available on the website, making it one of the biggest players in INDIAN peninsula.
This company first started out as "Foodiebay" in New Delhi, India in 2008 – is a global restaurant search and discovery service later named "Zomato" in 2010. First, it started coverage in Bangalore, Pune, Chennai and various states of India, by late 2012 it covered overseas locations like UAE, UK, Srilanka, Qatar and various other countries. And now it is operating in more than 22 countries, Deepinder Goyal, CEO started the round of funding in 2010 with a $ 1 million approx 4.6 crore rupees from info edge, then later it raised another $ 16 million in installments from info edge which gave them a 57.6% stake and in 2015 it took the total funding to $ 225 million from various investors like sequoia capital, VY capital and info edge making it an stupendous e-commerce giant!
India is a land of many opportunities. You can start a business in India with a diminutive amount of investment and grow your business. Although it may seem start-up's with low initial cost investment fail or cannot make big BUT with influential management support, struggling work and zeal even start-up's can move to the BIG LEAGUES!