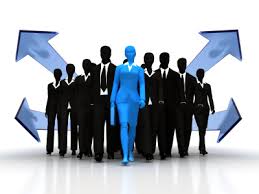 Leadership is the ability to motivate a group of people by means of communication to achieve the goals of the organization. Leadership is a process in which people use their full capacity for the attainment of collective objectives.
Leader means a person who has the ability to influence others. Leaders have vision. Where there is no vision, the people perish. A good business leader is the one who create a vision, expresses it and passionately works to fulfill it. Leadership has the power to bring a change in the behaviour of the employees to give a better work performance. Leadership is a continuous process to achieve the objectives of the organization by fulfilling individual goals also.
Leadership is the power to inspire others to follow.
Management and Leadership
Management consists of an art of getting things done through others in a best and the cheapest way. A manager is the person who performs the managerial activities. Leadership is a process of transferring the potential into reality. A leader is the person who fulfils the expectations of his followers.
Leadership and Management must go hand in hand but they are not the same thing. They are complimentary to each other.
The scope of management is wide as it includes all the managerial activities while leadership is only a part of management with a very limited scope. Management consists of the formal authority while leadership is informal authority. The manager focuses on systems while the leader focuses on people. The manager's work is to administer the work while the leader innovate the people.
In conclusion, it can be said that all managers are leaders but all the leaders are not managers.
IMPORTANCE OF LEADERSHIP
Leaders are a key human resource in an organization. The importance can be discussed as below:
1. A leader plays a guiding role by instructing the followers to do their work efficiently and effectively.
2. A leader helps in solving the problem of "resistance to change" by persuading them to accept the changes without any discontentment.
3. A leader allows his followers the freedom to express their views. The leader understands the nature of conflict and tries to solve them timely.
4. A leader is helpful in providing proper training and development.
5. A leader maintains good relations with his followers and provides them the required confidence, support and encouragement.
6. A leader helps in creating a healthy work environment.
It is impossible to achieve the goals of the organization in the absence of the leadership.