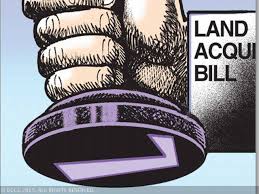 Land Acquisition in India is a process of land acquisition by the central or state government of India for various infrastructure and economic growth initiatives. Many controversies have arisen with claims that land owners have not been adequately compensated.
The Amendments made by new government are not so up to the mark. In LARR 2013, there was an exemption to acquiring of multi-cropped land. But in 2015 Bill;for five special categories of land use i.e. defense, rural infrastructure, affordable housing, industrial corridors and infrastructure projects including PPP; the multi cropped land can also be acquired without any Social impact Assessment which is against the social sentiments.
But where as in my opinion the govt. should not be eager to pass such a bill before utilizing the waste land already left. A data states that there is still 638518 sq. km of waste and barren land available in India which has not been put to use. Hence, the govt. should have the target to use first these lands to its max use then shift to acquisition over farming and fertile land.
The other thing is that the SEZ's created by Govt. have also not been fully used according to a CAG report on SEZ. Out of 45635.63 hectare of land notified in the country for SEZ purposes, operations commenced in only 28488.49 hectare (62.42 %) of land. However, only a fraction of the land so acquired was notified for SEZ and later de‐notification was also resorted to within a few years to benefit from price appreciation. In terms of area of land, out of 39245.56 hectare of land notified in the six States, 5402.22 hectare (14%) of land was de‐notified and diverted for commercial purposes in several cases.
Hence, when so much land is already available then why acquire more.