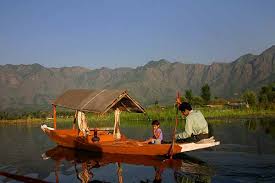 Kashmir has been the root of boundary dispute between India and Pakistan since independence of both the countries in 1947.
The independent states were given the option whether to join India, Pakistan or remain independent. Maharaja Hari Singh, the ruler of the princely state of Jammu and Kashmir then opted to join India and thereby signed the "instrument of accession" on 25 th October 1947 subsequently accepted by the Government of India on 27th October 1947. Pakistan expected Kashmir to join it since it had majority of Muslims and Pakistan had the vision of an independent Muslim state outside India. Whereas India, on the other hand, had the goal of retaining Kashmir in order to portray India as a secular state. Thus, began the First Kashmir War in 1947 when Pakistani Pathans started invading Kashmir from its northwest region. The Second Kashmir War took place between April-September 1965. This again began with Pakistan invading India following their Operation Hibraltor . This five-month war ended with 11 UN resolutions and the Tashkent Declaration of 1966.The Third Kashmir War (Kargil War) began in May 1999 again when Pakistani soldiers infiltrated Jammu & Kashmir and reached NH1 (National Highway 1). Bill Clinton then called Kashmir "the most dangerous place in the world." At that point of time, India had a more stable economy than Pakistan. India's GDP was more than six times Pakistan's GDP. Thus, the war ended with India regaining control of the occupied territory, and thus forcing the Pakistani military to retreat.
However, today the tables have turned for the good where both countries have expressed their willingness to begin a new era of bilateral relations. War, even though highly debatable and seemingly only solution has curbed both the country's economic development. The neighborhood rivalry has cost both the sides. Hence, there's a need for a clear solution, which invites more economic prosperity to both, decreases terrorism and makes the state of Kashmir a heaven indeed.