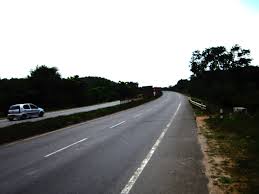 I continue my journey from Vishakhapatnam to Rajahmundry, also called the 'Cultural Capital of Andhra Pradesh'. Located near the mouth of river Godavari, it has second largest Rail Cum Road Bridge in Asia and largest in India. It is said that Telugu language originated from here, with help of famous poet Nannayya. Some distance from here we can observe near sea shore, the Kakinada port which consists of oil and natural gas deposits of Krishna-Godavari Basin.
I move forward to Vijayawada, the 'Business Capital of Andhra Pradesh' and the 'Global City of the Future'. Known because in Hindu mythology, Goddess Durga is said to have killed a demon and got victorious and based on Mahabharata, Arjun is said to have obtained his Pashupathastra here. It is also the site of biggest dam on Krishna river, the Prakasam Barrage.
I barge into Guntur, the 'Spice Capital of Andhra Pradesh' which is the biggest supplier of chillies in India. It is said that discovery of Helium element was made by observing the sun from solar eclipse at Guntur in 1868 AD. The region was said to have been ruled in ancient times by the Nagas, who have been mentioned in Mahabharata. It also has a small Jewish community, with their synagogue.
As it has been predicted and come out to be true, India as an emerging superpower can not be shown any less than by its own space station, one of the few existing all over the world – Satish Dhawan Space Centre at Sriharikota. The centre lies on an island extension over a lagoon called Lake Pulicat. The entire space history of India comes out live, as we imagine the PSLV rockets sent into space, with majority of them being successful. The other side of Golden Quadrilateral lies one of the holiest cities in India, Tirupati, with its wealth and 'Best Heritage City' tag. The literal meaning is 'Holy Lord' as we may clearly conclude from the swarm of pilgrims coming and going from and to Tirupati Balaji Temple.
I finally reach my third major destination, Chennai, also known by its old name 'Madras'. What place better to represent South India than Chennai itself. Here are its achievements – 'Detroit of India' due to flourishing automobile industry, 'Hottest' city to live in India (by hot , I do not mean in literal sense'), 2nd best 'Food City', 9th best 'Cosmopolitan City' and what not. The most powerful kingdoms of south, Cholas, Cheras and Pandyas, had at some point of time in history, occupied this strategic port city and made it prosper. It was an apple in the eye for the Dutch, Portuguese, French and British, the latter built Fort St. George, the major British settlement in India. It has the longest beach in India, the Marina Beach. It is also the cultural center of the Tamilians, with Bharatnatyam dance, Kollywood movies and Carnatic music.
Click here for government certifications