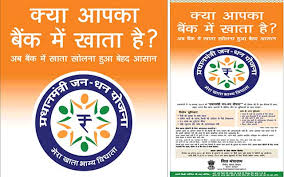 JAM ( Jan Dhan Yojana, Aadhar, and mobile ) introduced in Budget -2015 is a scheme to implement "Insurance for all". Reasons to bring this scheme up is to keep the million of accounts opened by Jandhan Yojana concept and also to implement insurance for people in very less premium ( "Affordable to all") which comes under financial inclusion plan.
Under this scheme, GOI is planning to bring in social security for every single individual in India.  One scheme under JAM provides Rs.2lakh for individual who faces accidents or any other health-concerned issues with just a premium of Rs.12 per month. Another scheme which is exclusively for people aged between 18 to 50, is issued to provide Rs.2lakh for individual who meets natural or accidental death with Just Rs.330 per year as premium, this amount is not even divided to be Re.1 per day.
What role do banks have in this JAM scheme?
Through Jan Dhan Yojana 12.5 million accounts were created for rural people, which insisted on savings and its awareness of the rural population. Most of these accounts are zero balance account. So, by making these accounts active cost of deposits in banks will reduce.
Vast postal network and banks are clubbing hands to execute this plan. Aadhar cards and mobile devices are used to verify the identity of the individual to make sure that the funds are not leaked.
Budget 2015 has concerned more on financial inclusion, which in turn released many schemes to improve the poverty situation in India. Hope the schemes get its gains.
Click here for government certification in Accounting, Banking & Finance