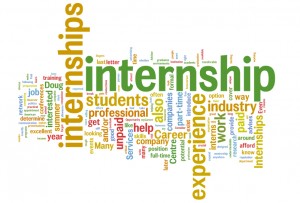 As the global economy becomes more , well, more global, the competition for good jobs continues to increase. You no longer have to simply be more qualified than the person next to you, you have to be more qualified than countless others all around the world. Since employers prefer to hire graduating seniors who have career related work experience, Internships will be a boon for students .
Develop skills
Going to college or university is a critical step, but you  can greatly enhance your classroom learning by gaining real world  experience through internships. In addition to gaining great experience  to complete your classroom learning, internships allow you to develop your portfolio and make valuable industry contacts that can be essential to landing the ideal job upon graduation.
In today's competitive job market, it's " what you know"  and  "who  you know"  that often makes the difference. Internships are a great way to address both of these issues at the same time.
Build meaningful bonds
The importance of internship to  students in terms of networking and gaining new resources cannot be understated. Building a network of  "who you knows" through internship can pay a great dividend upon graduation. You can have an "in" at those reputed organisations which have mingled with the organisation where you performed the actual internship. Interacting with large pool of  people provides you an opportunity to learn about what his/her job entails.
Other opportunities
Internship , though built social network, but these are very competitive . One can make the most of other opportunities available , by finding the campus job, volunteering programs . You can also leverage other universities resources like your campus job search office or alumni organisation to find a valuable  position that will get you in the door and on your way to a career in a field of  your interest.
So, what are you waiting for? Go and get one!