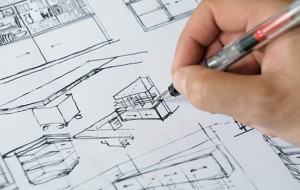 A well decorated interior design must reflect the purposes and functions of the area to be designed. It creates a mood or a feeling and reflects the personality of the occupants. Decorating is more than just eye appeal it's making a room interior really work.
First select the focal point for room's interior. Sometimes rooms have natural focal points like, a fireplace, a bay window, a built-in bookcase, etc. If the room interior doesn't have a natural focal point, try to create one with a dynamic piece of art or a colorful area rug.
Determine whether the furniture satisfies the functions planned for the interior.  Get rid of unwanted pieces or trade it for something else around the house that seems appropriate.
Lighting should be well considered for the functions of the room as well as for visual appeal of design. There should be either direct lighting from a lamp or indirect lights that simply brighten the room for conversation or for TV-watching. Accent lighting floor spots, recessed spotlights or track lighting, this enhances texture, color and room details.
Draw room on graph paper, mark and measure electrical outlets and switches, vents, windows and doors. Measure furniture and place it in floor plan. Generally, main furniture pieces are directed towards the common focal point, keeping the major traffic patterns into considerations.
The mood and feeling of a room interior is created by choice of colors, the style of furnishings, the amount of texture and pattern used and accessories. Since there's so much to consider while planning mood, establish theme through the selection of an inspiration piece.
The easiest way to decorate is to start with some source of inspiration. Select inspiration piece wisely, and be sure it makes feel good to occupants. It's the basis for selecting theme, colors, patterns and textures for interior.
Analyze inspiration piece, develop a theme and name it. For example, a needlepoint pillow with a botanical design on a black background inspire a title like "formal botanical garden". Descriptive with theme name and all sorts of supporting ideas. Botanical prints, striped walls and floral colors, formal fabrics & furniture, dark woods with black accents all fits in themes.
Color should always support the theme and should be appropriate with patterns and design of inspiration piece. It is the best option to choose three kinds of colors in a room:
A dominant color which should be used for walls, carpeting and fabric backgrounds.
A secondary color that should be found throughout the room in fabrics and accessories.
An accent color may be used sparingly to give energy and excitement to the interior.
Stripes, checks, florals and plaids are few of the patterns considered to continue supporting theme to design. It's all right to keep mixing patterns considering three points in mind:
The background color should be same all-over.
 All patterns should share the same colors.
By varying the scale or sizes of the patterns.
Too many smooth, shiny objects or too much nubby, rustic texture may taste tiresome experiences. Use of variety to keep the room interesting is important. Even patterns can also be used as textures in a room. Prints look dimensional and add depth to decorating scheme of given area.
Aside from being functional aspect, furniture plays an important role in supporting theme. Some pieces may function well but their style or color combination matters. Salvage it with slipcovers, tablecloths or paint. If it's a lost theme, remove it from the room decoration.
Personality reflects personal stamp on a well-planned room, using strategies:
Accessorizing matching Pictures, vases, pillows and area rugs are all integral parts of a decorating plan. Generally, this should support the required theme, but should allow more flexibility. An antique picture frame can add wonderful variety to a contemporary room with Accessories located on walls, furniture, mantels, table-tops and flooring.
Whimsy is optional feature in decorating scheme, but it can counteract any sterile quality that may have been designed strictly by following all the guidelines of design, like: A beautiful country sitting room to get relief from a playful quilt placed over the fireplace.
The unexpected Interest doesn't have to be whimsical, it can be something unexpected in a room, like: a brightly-painted ceiling with pop designing features.