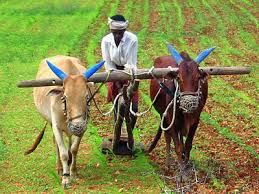 Any country whose farmers are not happy and satisfied, can never prosper in true sense. A farmer who satiates the hunger of millions of people of a country, if can't fulfill his own stomach then its truly a setback for that country. India, where agricultural sector dominates the other sectors, the people working on those agricultural lands are constantly being ignored and their needs are hardly recognised.
Over 5,600 farmers, 20148 women farmer committed suicide in 2014. Also the current figures are no less disappointing as suicide by farmers have risen in number as compared to last year. 158 farmers killed themselves in July in Karnataka, this year's toll of farmer suicides to 197, the most since 2003 agrarian distress. Telangana is also not behind as in the month of July alone, as many as 12 farmers killed themselves in just 5 districts of the state while in the first 5 days of August, the state has already reported 3 suicides by farmers.
Such is the condition of other states too. So how can we say that India is developing in true sense?
Incessant rain and hailstorms in some parts while no rain in other parts, debt, bore well failure, high interest rates on loans, unfair price for their crops are some of the many reasons for farmers' suicides.
Taking for an instance the case of a farmer, Hanumantha Reddy of Chitradurga district took Rs. 4 lakhs loan from a private financial institution at 24% interest even when as per the law, banks can charge only 14% interest on secured loan and 16% on unsecured. This constant harassment of farmers by private financiers is hardly checked.
Now taking into consideration the vagaries of nature! Who is actually responsible for it? Is it our rich class? As I really don't think that a poor man can afford air conditioners, perfumes or deo, fridge, cars and other luxuries. Increased solar radiations, green house gases or dark aerosols- participles in the air eventually warm the Earth's surface and it's these effects that can produce an immediate change in rainfall.
India is truly a diverse country as on one hand, some people can't stay without air conditioner for a minute and on the other hand some can't live because of its indirect effects on their life.
Its understandable that consuming luxuries has become a way of life for some people but then one can't ignore the needs and sufferings of the poor either.
Unfortunately, the procedure of providing compensation to the family of deceased happens at a slow pace. Also not every farmer gets compensation. The data shows in Karnataka only 60 out of 197 affected families were approved for compensation from 1st April to 29th July 2015 by the government.
More than 3.20 lakh farmers committed suicide in 25 years. Is that what happens in an ideal country? Are we really sensitive towards those who feed us?
I believe that a country prospers only when its citizens are happy. Therefore its high time that the government gets serious about this big issue and we as the responsible citizens of the country try and exploit its resources to the extent that it doesn't cause harm to other helpless people.