We are observing a constant evolution in the field of Cloud testing together with generating new opportunities and challenges for professionals. Companies find moving to the cloud more cost-effective as compared to traditional trends as long as it does not include sensitive information. Not only does it helps small business units to harness public clouds for better efficiency, but also aids large corporations to leverage private clouds for cloud-based testing services. So, no matter whether an organization is large or small, the path to cloud-based testing has paved a path of great opportunities for professionals to build a career as a Cloud Application Tester.
Let us know how can you find a job as a Cloud Application tester!
About Cloud Testing
Cloud testing (also known as cloud-based testing) is a technique for evaluating the scalability, performance, security, and dependability of online applications (or websites). As the name implies, this type of testing is carried out on a third-party cloud computing environment that has the necessary infrastructure. The different forms of cloud testing procedures allow you to test software and hardware without the normal financial restrictions, geographical difficulties, multiple test cases, expensive per-test expenses, and so on.
According to Forbes, cloud computing investment is expected to rise from $67 billion in 2015 to $162 billion in 2020. Simply said, demand for cloud computing is rising at a 19 percent compound annual growth rate.
Now, let us look at some of the reasons as to why should you choose to learn about cloud testing, being a fresher, experienced or an entrepreneur.
What are the advantages of learning Cloud Testing?
Below mentioned are some reasons which will provide you some insights as to why should you learn about cloud application testing –
Cloud-based testing is beneficial for avoiding schedule delays caused by the environment. Cloud-based testing environments may be deployed quickly and easily, removing the need for teams to share environments (or infrastructure) (and team members).
The use of cloud-based testing automation technologies improves communication across different teams and members of the same team. It's simple to keep track of other people's actions, which is important for minimizing "activity overlap" amongst team members.
The total cost of ownership of cloud-based testing automation solutions is cheaper than that of on-premises technology. The bulk of cloud-based testing services are "pay-as-you-go," which means you save money when the tools aren't in use or when you want to minimize testing operations for business reasons. Cloud-based testing is beneficial for avoiding schedule delays caused by the environment. In addition, Cloud-based testing environments may be deployed quickly and easily, removing the need for teams to share environments (or infrastructure) (and team members).
Cloud-based testing automation technologies have a lower total cost of ownership than on-premises technology. The majority of cloud-based testing services operate on a "pay-as-you-go" model, which means you save money when the tools aren't in use or when you plan to reduce testing activities for business reasons.
Let us now look at the scope and some of the job profiles of this sector!
Scope and Job opportunities
Software testing has become an important element of the business cycle since the introduction of cloud computing. Companies had relied on in-house personnel for cloud application testing in software testing procedures until recently.
Outsourcing cloud application testing to QA testers quickly became a cost-effective way to test cloud systems for both corporate and small-scale apps. There's no denying that the increasing adoption of cloud computing has made cloud system testing a critical business function. Some job designations that you can expect are –
Technical Lead or Senior Engineer – 0 – 2 Years of Experience – Provides Tier 3 support as well as oversight of the testing process for a highly available, highly scalable cloud-based OLTP system built on J2EE frameworks for transaction processing in the credit card sector.
Performance Testing Strategy Tester – 2 – 6 Years of Experience – Provide knowledge in test script planning, construction, and execution. To fulfil the team's overall test objectives, apply business and functional expertise, including testing standards, guidelines, and testing methodology. Ascertain that all test findings are easily available and comprehendible. Maintain an up-to-date defect repository and track bugs until they are resolved.
Lead or Senior Engineer QA – entails overseeing the testing of a highly available, highly scalable cloud-based OLTP system designed to handle transaction processing in the credit card sector and constructed using J2EE frameworks.
In order to bag these jobs, even if you are a fresher or person with experience trying to get into this field, or someone who is trying to climb up the corporate ladder, you need to have crystal clear knowledge about all the concepts. Let us now look at different resources that you can use for getting complete knowledge about this field.
How can you learn about Cloud Application testing?
Before you can become an expert in desired areas, you must first build a solid base. Before you can move on to practical teaching, you'll need to have the right applied skills. To gain a better understanding of the domain, you can use the following tools:
Firstly, Online Tutorials for Cloud Application testing
Also, Certification Courses from verified sources such as Vskills, Coursera, Udemy and so on.
In addition, Online communities
Moreover, Blogs and study material from experts in this field and many more.
Here are some examples of how you can improve your abilities:
Freelancing
In addition, Internships
Also, Apprenticeship programs
The above steps will help you to get this domain started. It's a long way to go, however. You can take an advanced course to reach a new level of skills.
Let us also look at Cloud Application testing certification by Vskills which can help you to boost your knowledge in this field and can aid you in reaching new heights in your career.
Certificate in Cloud Application Testing by Vskills
Vskills offer Cloud Application testing certification for all those interested in working in this field or in advancing their career. This certification course covers various objectives –
Cloud Computing Basics
Evolution of cloud
Cloud Characteristics
And, Cloud Types
Cloud Service Models (IaaS, PaaS, etc.)
And, Cloud Service Patterns
Cloud Technology
Virtualization
Hypervisor
Virtual Machines
SOA
Cloud Service Management
Cloud Testing Basics
Scope
Functional vs. Non-Functional testing
Defects and failures
Finding faults early
Compatibility
Input combinations and preconditions
Static vs. dynamic testing
Software verification and validation
The software testing team
Software quality assurance (SQA)
Testing Methods – The box approach
Cloud Test Strategy and Environments
Cloud Testing Strategy
Virtual Test Environments
Cloud Test Environnent Vendors
OpenStack
Cloud Testing Artifacts
Test plan
Traceability matrix
Test case
Also, Test script
Test suite
Also, Test data
Test harness
Vskills also offers free practice tests and online tutorials to supplement the learning process. You can check them by clicking on the following links –
Free practice tests
Online tutorials for Cloud Application testing
Now that we equipped you with whole the information about the field and the resources which can be used to gather complete information about the field, it is time to know about How can you secure a job as a Cloud Application tester? So, let us jump to this part.
How to get job as a Cloud Application tester?
To be acceptable at something, it is critical to have a good start with appropriate assets and learning material. As a result, in order to be a pro in this sector, your first steps toward learning must be appropriate. Let's have a look at some actions you may take to get started with your studies.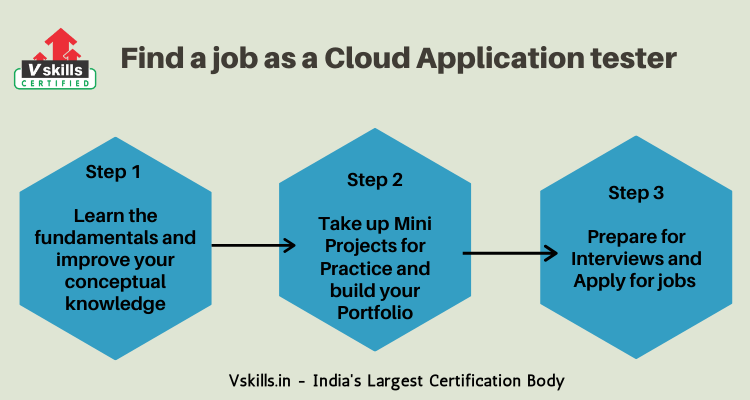 Step 1 – Learn the fundamentals and improve your conceptual knowledge
You must first establish a firm foundation before you can become an expert in those areas. And you'll need to have the necessary applied abilities before you can go on to the practical laboratories. Everyone has to begin somewhere. You must begin small if you want to have a successful career in this field. You can use the resources listed above to get a comprehensive grasp of the term. For the same, Vskills offers online lessons, certification courses, and free practice exams. On our official website, you may see them.
Step 2 – Create a Portfolio and take up Mini Projects for Practice
If you want to land in a favorable location, you must practice. It's also a wonderful method to see where you stand in terms of putting your knowledge into practice. In practical elements such as the use of cloud application testing principles in projects, experience may help you outlive other things. To further grasp the practical components, you might supplement your study by reading blogs and tutorials on other websites. You need to learn tools such ad SOASTA Cloud test, LoadStorm, BlazeMeter, Nessus, App Thwack and many more tools including concepts as Cloud Testing Artifacts, cloud testing strategy and environment and many more.
Building a portfolio can help you gain confidence in your talents while also giving you a place to practice what you've learned. Your portfolio displays your ability to plan and execute various programs, as well as your cloud application testing abilities. These exercises should include a variety of datasets and provide readers with intriguing nuggets of information gleaned from your research. Your portfolio doesn't have to be on a single topic; look for codes that interest you and figure out how to combine them.
Step 4 – Prepare for Interviews and Apply for jobs
Preparing for interviews is as important as gaining conceptual clarity. You need to know proper etiquette for the interviews in order to ace them. You can also find sample interview questions by Vskills to gain confidence in your skills.
These were the steps that will help you bag a good job offer. Remember to be always prepared and revise important concepts before sitting for an interview.
We hope this article helped you in gaining complete knowledge about the cloud Application tester domain. Hurry up and start preparing now with Vskills.in!