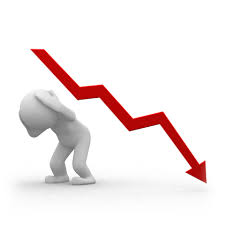 Banking sector showed a fall in net profit over the last quarter. Though economy showed a positive growth in last quarter, though the inflation had a fall in last quarter, though the fuel rates visited a fall in last quarter, though Indian rupee had a positive value growth in last quarter though other sectors had a good time last quarter, the source for money (i,e) banking sector showed a decline.
The highlighting reason behind is the increase in Nonperforming assets.
Though the economy sees an increase in its grade still it is believed that NPAs will be a hindrance for the next couple of quarters. Why is this situation?
As the economy was bad couple of years back, most prominent sectors were put in dark and as the economy grows the sectors are also experiencing a growth along with the economy. It is always a situation for any nation in that case that the decline happens rapidly but the growth takes long period to reach a happy time. So, bank has to wait till the sectors reach their happy time and settle back their loans. Restructuring of loans happened very frequently in the last 2 to 3 years because of economy decline. Now, what is restructuring of loans?? Loans get into bad loan status in 2 reasons :
1)      Willful defaulter, this category represents the people who default intentionally from repaying the loans.
2)      Genuine defaulter, this category represents the people who wish to repay the loans but are starving to find profits from their business.
Restructuring of loans happened to be done in the second case. Banks offer extension for the borrowers to repay their loans. This extension would help the genuine borrowers to settle their business in the extension period and then repay it with the profits they obtain.
RBI is designing new guidelines for banks to manage with NPAs which is supposed to be released by April. Also as many encouraging policies were released for banking sector by Raghuram rajan in the last 2 months and as public sector bank's regulations have been leisured to some extent it is hoped to rectify from the NPAs as early as possible. Cross the fingers and hope for the best.
Are the Hopes on banking sector still alive?!
Click here for government certification in Accounting, Banking & Finance