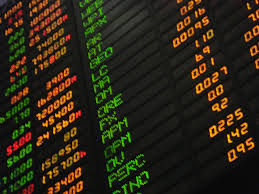 The origin of the stock exchanges in India can be traced back to the later half of 19th century. After the American civil war, the number of brokers dealing in shares increased. The brokers organized an informal association in Mumbai named 'The Native Stock and Share Brokers Association' in 1875. The increased activity in trade and commerce during the First World War and Second World War resulted in an increase in the stock trading. Stock exchanges were, then, established in different centers like Chennai, Delhi, Nagpur, Kanpur, Hyderabad and Bangalore. The growth of stock exchanges suffered a setback after the end of world war due to worldwide depression. Most of the stock exchanges in the early stages had a speculative nature of working without technical strength. Securities and Contract Regulation Act, 1956 gave powers to the central government to regulate stock exchanges. The stock exchanges in Mumbai, Calcutta, Chennai, Ahmedabad, Delhi, Hyderabad and Indore were recognized by the SCR Act. The Bombay stock exchange was recognized in 1963. At present we have 23 stock exchanges and 21 of them have hardware and software compliant.
Till recent past, floor trading took place in all the stock exchanges. In the floor trading system, the trade takes place through open outcry system during the official trading hours. Trading posts are assigned for different securities where buy and sell activities of securities took place. This system needs a face to face contact among the traders and restricts the trading volume. The speeding of the new information reflected on the prices was rather slow. The deals were also not transparent and the system favored the brokers rather than the investors.
The setting up of NSE and OTCEI with the screen based trading facility resulted in more and more stock exchanges turning towards the computer based trading. Bombay stock exchange introduced the screen based trading system in 1995, which is known as BOLT (Bombay On-line Trading System). Madras stock exchange introduced Automated Network Trading System (MANTRA) on Oct 7th 1996. Apart from Bombay stock exchange, Vadodara, Delhi, Pune, Bangalore, Calcutta and Ahmedabad stock exchanges have introduced screen based trading system and others are also planning to shift to the screen based trading.
Click here for government certification in Accounting, Banking & Finance