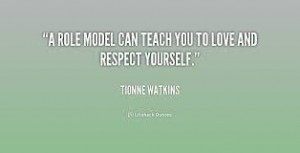 We all have someone in our life, whom we look up to. It maybe our professor for his passion for teaching, or one of our parents for their balanced approach in life, a famous personality for their zeal and hard work or simply a close friend for his never say die spirit and winning attitude. It may just be anyone, who has qualities you would like to develop or imbibe too. Right?
Having a role model is important. Do you know why? Not that we can ape them but to be like them in our respective places by simply learning from their positive traits, so that we too can bring out the best in us. When you have someone like that in your life, you are constantly reminded of the qualities you want to inculcate. They spur and inspire you to act, to change for the better and help you grow. This way you can channelize yourself in a positive direction following the footsteps of a great example in your life. Even if you don't exactly follow them, learning from their ideals and their life itself can add meaning to your life.
Youth especially should have a role model early in their life because that will give impetus to their need for developing themselves. But one must also remember that having a role model doesn't mean losing your own individuality and trying to copy someone. That won't be correct. One must also remember that we're all different and unique in our own ways, but as fellow human beings, one can learn from each other and fuel each other's growth. That is the purpose behind it all.
So, if you have someone in your life that you look up to and want to be great like them, then learn from them and apply it in your life, in your own unique way. Years later, who knows you might just become someone else's role model. Wouldn't that be great?