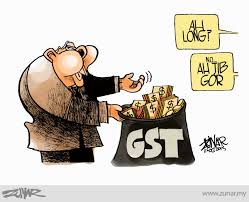 GST what is it and why is it needed?
GST, Goods and Service Tax a destination based, indirect tax that will be levied on manufacture, sale and consumption of goods and services. GST includes al the central and state indirect taxes, which includes the additional excise duties, excise duties, service tax, additional customs duty, Value added tax(VAT), Sales tax, Entertainment tax, Central sales tax, entry tax, purchase tax, luxury tax and taxes on lottery, betting and gambling.
The taxes rates are different in different sates, GST will bring uniformity it will reduce the cascading effect of these taxes by giving input tax credit.
GST benefits the common procedures and claims credit for tax paid it will help the industries too and also expected to reduce the cost for the consumers.
"Arun Jaitley the Finance minister estimates GST will help increasing India's GDP by 2 percent"
Talking about the bill, the UPA government brought the bill in Lok Sabha in 2011 but failed to pass. The NDA government introduced a slightly modified version of the bill last December in Lok Sabha. The bill got clear but the GST is still pending in Rajya Sabha where it needs two-thirds majority by both houses and ratified by 50% of states to be passed.
The main reason of the bill being stuck is that the government does not have a majority in Rajya Sabha, opposition wants the bill to be referred to a select committee and not agreed by the government. The centre and the state have to frame and pass GST laws-Central GST and State GST, which will provide the  framework of new tax.
GST council will be formed which will decide on the issues including tax rates, exemption list and limits. Sub groups have already prepared blue prints for business, payment and refund process, dual control, rescue-neutral rate and GST laws while the National Institute of Public Finance and Policy and Sub groups have suggested a rate of 27% for both sates and the centre, Finance minister has clearly mentioned that this is too high.
Click here for government certification in Accounting, Banking & Finance