In today's day and age, digital marketing is really important. It does not just help to focus on targeted audiences with a global reach but also helps bring high revenue with little investment. With its several benefits such as being conversion-led, easy damage control, and easy to monitor ability, it is one of the most in-demand careers of 2022. Thus, in this blog, we'll discuss the Future Scope of Digital Marketing in 2022: Career Prospects and Job Opportunities and show you how it is a career worth exploring in the coming future.
Digital marketing is basically that component of marketing that makes use of the internet and online-based digital technologies like desktop computers, mobile phones, and other digital media as well as platforms to promote products and services. This promotion is used to enhance the significance of a product or service through all the potential digital platforms. It serves multiple purposes such as creating brand awareness, commercials through exceptional digital channels, using the internet. With such variable applications, digital marketing as a career has tremendous scope for students, professionals in the IT and management departments of companies. Thus, such candidates with an interest in digital marketing can explore a variety of industries in the coming future, which makes it a career worth possessing in 2022.
So, let's discuss the Future Scope of Digital Marketing in 2022: Career Prospects and Job Opportunities in detail, beginning with the required skills of a successful digital marketer-
Skills Required
In order to become a proficient digital marketing professional, it is advised for you to possess the following skills and abilities-
Business knowledge
Communication skills
Designing skills
Data analysis knowledge
Information handling ability
Technical knowledge
Learning Outcomes
Learning digital marketing helps you-
analysing the confluence of marketing, human resources, and operations in real-time delivery.
evaluating and investigating issues in adapting to globalised markets that are increasingly networked and changing constantly.
interpreting the traditional marketing mix.
illustrating cognitive knowledge of the skills needed in conducting research on online markets, and in identifying, and choosing digital market opportunities.
analysing cross-cultural as well as ethical issues in globalised digital markets.
explaining emerging trends in digital marketing and assessing the digital marketing tools' use by applying relevant marketing frameworks.
Roles and Responsibilities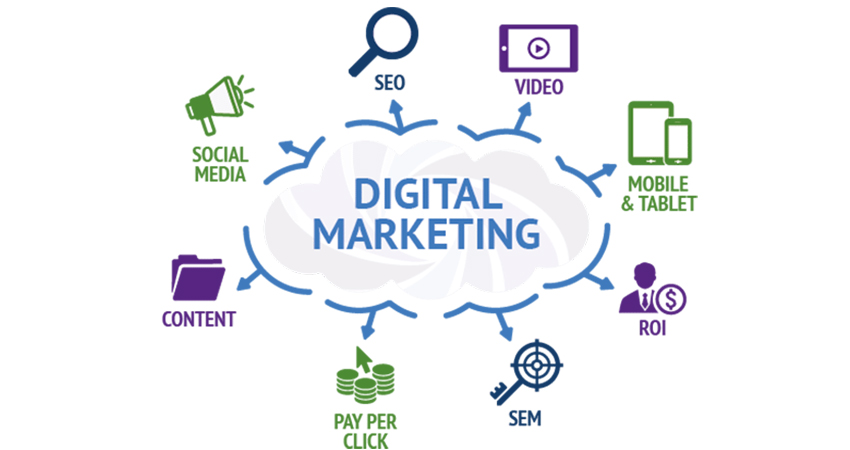 Duties of a digital marketing manager include-
managing the social media content posted by businesses.
improving the design, traffic, UX and content of the website.
maintaining persistent brand messaging throughout all the platforms.
developing strategies to drive customers to the website.
creating email blast campaigns so as to target key customers.
creating paid campaigns on various social media platforms.
using advanced metrics for measuring the success of marketing campaigns.
Career Prospects
With expertise in marketing, candidates from different backgrounds with technical knowledge, communication skills, strategical thinking, and interest in digital marketing can opt for the following highly-paid job profiles-
SEO professionals
SEO professionals are the marketing professionals who make use of research and analysis so as to improve the ranking of a website on search engines like Google. Thus, they look for the most popular, relevant keywords used in search engine queries and accordingly insert them into websites, so as to help search engines find those sites and present them to web users.
Average salary: ₹5,00,000
Social media marketers
Social media marketing professionals use social media platforms as well as websites for the promotion of a product or service. E-marketing and digital marketing despite being dominant in academia still social media marketing is becoming more and more popular for both practitioners.
Average salary: ₹5,60,000
Digital marketing managers
Digital marketing managers are the professionals responsible for the implementation, supervision, and management of digital marketing strategies for the advancement of an organization's mission by reaching more audiences and attaining better exposure. Thus, their main duty revolves around increasing sales, donations, or community involvement.
Average salary: ₹5,48,755
SEM professionals
SEM professionals are professionals who possess a deep understanding of the way search engines rank and display pages and websites. They make use of this knowledge in order to help companies create and execute data-driven digital marketing tactics that include content marketing.
Average salary: ₹14,00,000
Web analytics professionals
Web analytics managers basically report to the director of digital marketing and provide technical leadership as well as support for web analytics tools that deliver valuable insights to help enhance the number of site visitors, create a deeper engagement, and also improvise online conversions.
Average salary: Rs.3,20,000
Content writers
Website/web content writers are professionals specialized in providing relevant and attractive content for websites. Thus, they are responsible for helping a website attract its specific target audience and providing them with the most relevant content to attract business.
Average salary: ₹4,00,000
E-Commerce managers
E-commerce managers design and implement business plans, strategies, and procedures to maintain a seamless procurement, supply chain, logistics, and operations. Simultaneously, they oversee the work of finance, marketing, and IT executives and the daily operations of the company.
Average salary: ₹9,08,287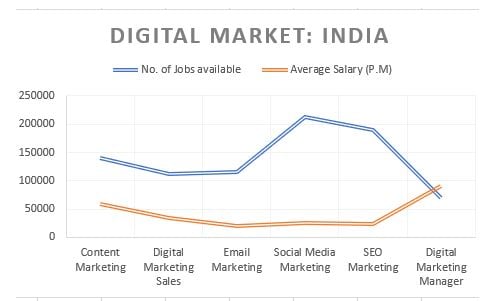 We've discussed all the major career opportunities and the future scope of digital marketing in 2022 and the coming future. Hopefully, this will help the interested candidates analyze their job interests in this field and find out which profile suits them best. So, if you are also looking for better job opportunities in digital marketing 2022 then you can opt for the careers mentioned above.
How to proceed?
The initial step to start your career in digital marketing is to get a bachelor's degree in any subject, preferably in management, commerce, or engineering. After this, you don't need to worry about how to proceed further, as we at Vskills provide you with certification programs to help you validate your skills and knowledge of digital marketing and elevate your level of understanding of the topic. This certification will act as proof of your knowledge when you will apply for jobs at companies. Thus, you can refer to the following tutorial to better understand all about the certification programs on digital marketing and ideal ways to prepare for it. You can also try out the practice tests in order to test your level of preparation and analyze your performance.

So, what are you waiting for? Get yourself certified in Digital Marketing with Vskills to start your career in this field!!